I still have 1 Print Copy (US/Can only) of SEXY AS HELL, Secrets of a Rock Star #1, TAKING THE LEAD by Cecilia Tan, to give away. Please leave a comment if you're interested!!! I am closing this giveaway on Feb 6th. Thanks!
JANUARY 2016 RECAP
This was one of the worst ever reviewing months for me. I felt very critical this month. I didn't want to review the ARCs I had received from book tours and rated 3 ☆. The M/M romance community seems very tight-knit, and I worry about hurting people's feelings. I want to be honest, but at the same time I'd rather not spend my time and energy writing full reviews on books I don't like, unless of course I find the content highly and unforgivably offensive. Mostly, though, I want to work on my writing, writing for me (and my first reader), writing I can see myself in, because I can't expect anyone else to do it for me. I've decided to post only 4-5 ☆ reviews on my blog this 2016. If I rate any NetGalley ARCs 3 ☆, I might post a review on Goodreads or Amazon, but not on my blog.
My main criticisms of the ARCs I didn't review:
1) Guy is a guy's guy x2 who is not self-aware, doesn't understand his EMOTIONS, and doesn't know how to say or is squeamish about saying, "I love you." This is a huge turn off for me. Unless the author is making a point about heteronormativity. I might be okay about it if the guy is afraid of saying it first, or whatever, but if guy invites boyfriend to move into his apartment, shouldn't guy know he's in love already and be willing and happy to say, "I love you" back? I mean, honestly, the only time I would have trouble saying "I love you" back to someone who tells me they love me is if that person is abusive or I don't love them at all.
2) Now, this is something I don't see often in romance novels, but really perplexed me. Billionaire is bringing his business to a revitalize the economy in a formerly, majority African American town in the deep South. Billionaire says, "I'm not racist, but how could African Americans own that plantation house and be the town leaders way back when?" Seriously? My problem is, why does it have to be a white guy who saves the town, instead of an African American billionaire and role model helping out his community and people?
3) Too much information dump and exposition in dialogue took me out of the story, though I liked the characters and the author's intention for her novel.
ARCs I REVIEWED
1. Taking the Lead by Cecilia Tan: 4 ☆
M/M ARCs I REVIEWED
2. Conversation Hearts by Avon Gale: 5 ☆
3. Tied to Trouble by Megan Erickson: 5 ☆
4. OUT! by J.L. Merrow: 4 ☆
ARCs I DID NOT REVIEW
5. One-Eyed Dukes are Wild by Megan Frampton: 3 ☆
M/M ARCs I DID NOT REVIEW
6. A Kind of Truth by Lane Hayes: 3 ☆
7. Farm Fresh by Posy Roberts: 3 ☆
8. Cherry Bomb by Samantha Kane: 3 ☆
M/M BOOKS I READ ON KINDLE UNLIMITED (200 pages or less)
9-14. The entire Straight Boys Series by Alessandra Hazard: 3 ☆
15. Finding Home by Sloane Kennedy: 3 ☆
16. Finding Peace by Sloane Kennedy: 3 ☆
FEBRUARY PREVIEW
This is what my February looks like so far, all color coded and everything!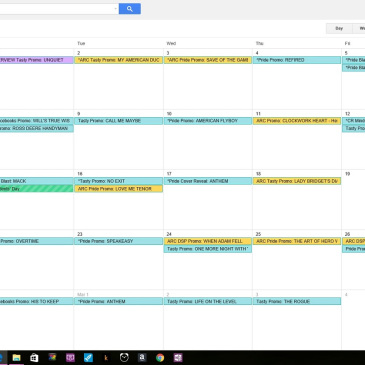 ---