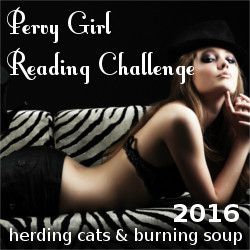 The Challenge
Find out just how naughty are you-when it comes to books, of course! This challenge is all about the naughty and exploring the gloriously kinky world of romance. There's a "pervy" checklist and the goal is to work your way through as many as possible during the year.
The Details
Challenge Dates: Jan 1, 2016 and ends Dec 31, 2016
Set your pervy girl goal then get to reading! Once you've read it… review it then link it up in the review linky. Reviews don't have to be long. Even a sentence or two is awesome.
What Counts
Books MUST be read in 2016
All book formats count!
Re-reads and Challenge cross overs count!
Books can count for only ONE checklist item each
Anyone can join! If you don't have a blog you can use a dedicated shelf on Goodreads or similar.
There's a FB group for the challenge-join to get book suggestions, socialize and get event news!
GrabGrab an event button & Give a Share
Let your fellow naughty girl readers know about the challenge! Grab the button above and toss up a sign up post letting everyone know you joined. If you don't blog please set up a dedicated challenge shelf on Goodreads (2016 Pervy Girl Reading Challenge).
Levels
Level 1 (Sweet & Innocent): 6 books
Level 2 (Still blushin'): 12 books
Level 3 (Is it getting hot in here?): 24 books
Level 4 (Yeah. I've got some kink!): 33 books
Level 5 (Whoa! Pervy girl, party of one!) 40 books
Level 6 (Let your freak flag fly!): 50+
You can join at any level and move it around during the challenge.
*The 2016 Pervy Girl Challenge is host by Herding Cats & Burning Soup > review link up
---
Flying
I'm going with Level 6. MM romance is listed as "pervy" but I think it's just normal for gay men to have sex. LOL. I am easily going to read/review 50+ books for this challenge.
JANUARY 2016 REVIEWS
MM - OUT! by J.L. Merrow
MM - CONVERSATION HEARTS by Avon Gale
BDSM - TAKING THE LEAD by Cecilia Tan
MM - TIED TO TROUBLE by Megan Erickson
FEBRUARY 2016 REVIEWS
MM - UNQUIET by Melanie Hansen
MM - SAVE OF THE GAME by Avon Gale
MM - Give Yourself Away by Barbara Elsborg
MM - The Law of Attraction by Jay Northcote
---