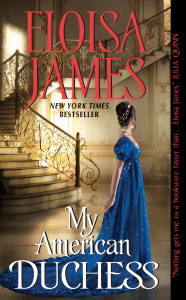 My American Duchess
By: Eloisa James
Release Date: January 26, 2016
Publisher: Avon
The arrogant Duke of Trent intends to marry a well-bred Englishwoman. The last woman he would ever consider marrying is the adventuresome Merry Pelford— an American heiress who has infamously jilted two fiancés.
But after one provocative encounter with the captivating Merry, Trent desires her more than any woman he has ever met. He is determined to have her as his wife, no matter what it takes. And Trent is a man who always gets what he wants.
The problem is, Merry is already betrothed, and the former runaway bride has vowed to make it all the way to the altar. As honor clashes with irresistible passion, Trent realizes the stakes are higher than anyone could have imagined. In his battle to save Merry and win her heart, one thing becomes clear:
All is fair in love and war.
Link to Follow Tour:Â http://www.tastybooktours.com/2015/12/my-american-duchess-desperate-duchesses.html
Goodreads Link: https://www.goodreads.com/book/show/23587137-my-american-duchess
Goodreads Series Link: https://www.goodreads.com/series/43059-desperate-duchesses
Buy Links: Amazon | B & N | Google Play | iTunes | Kobo

My American Duchess by Eloisa James
My rating: 4 of 5 stars
This fun, sexy, and dramatic historical romance pairs a lonely, loyal, and well-meaning duke, who doesn't believe in love, with an American heiress, who very much believes in love and has fallen in love three times.
Though the Duke of Trent and Merry Pelford were resolved to not fall in love with each other, their story was quite emotional and passionate. When the duke meets Merry in a dark balcony at a ball, he doesn't know she had gotten engaged to his younger twin brother, Lord Cedric, earlier that evening. He's fascinated by the funny, smart, opinionated, fact-gathering, democratic American, who disregards aristocratic titles. He's also taken by her statuesque, voluptuous beauty, unlike Cedric who doesn't think her looks are exceptional and only wants to marry her inheritance. Whether it's a twin thing, Trent decides on the spot that he wants Merry to be his duchess.
Merry has vowed to make it to the altar with her third fiancé. She's come to England with her aunt and uncle to evade the scandal in Boston after she jilted both of her former fiancés. Cedric is a flatterer-charming, sophisticated, elegant, and beautiful. He's a fashionable dresser, whereas the duke is always wearing black and loose coats that he can put on and take off without a valet. He's burly and muscular from the outdoors, somewhat remote in society, and his expression is rather severe. But Merry makes him smile and laugh. Merry challenges him intellectually, and their verbal spars are clever, engaging, and cute. She's also the only person he feels he can be himself with, and vice versa.
Merry's stubbornness and outspokenness however can be both weaknesses and strengths as her spirited nature gets her into scandalous situations in society, both funny but potentially disastrous. I liked how Merry stood up for herself, her family, and her beliefs. Because her parents had passed away, she lived with her aunt and uncle, and she was only twenty, I could understand why she was insecure and confident at the same time, why she wanted to please Cedric and not break up another engagement.
But when Merry figured out that she didn't want to marry Cedric after all and felt pressured into marrying him, the plot became very suspenseful and stressful. Trent also felt the pressure from ladies who wanted to marry his title and wealth. I couldn't wait until Merry and Trent were free to be together. Yet, when they're finally together, there are more complications because Trent views Merry's inability to commit and falling in and out of love as flighty. They agree to base their relationship on their strong friendship and not the illusion of love.
But this is a romance, so of course they're going to fall in love. It's agonizing how far apart they become when they realize they're not on the same page anymore, and it's infinitely rewarding when they finally return their love for each other. Merry and Trent are both complex individuals, flawed and human. Their affection and compatibility are quite clear, yet they're reluctant to put their feelings into words and damage the fragile bond, trust, and friendship that has defined their relationship. Although they both aren't sure if they know how to love, it's clear that they love their families. So, it takes a little bit of drama and lots of action to reunite their stubborn, loving selves. I wasn't a big fan of the longer sex scenes, but I liked how Trent took charge in bed… and the greenhouse… and I liked how Merry asked for what she wanted and took the initiative as well.
I liked how Merry had a powerful effect on Trent by causing him to become self-aware. MY AMERICAN DUCHESS takes place twenty years after the American Revolution and shows how one woman can achieve a revolution of her own in her personal life and relationships, bringing an entrenched way of thinking into a new light.
The epilogue contains a brief glimpse of a reformed Lord Cedric. I'm very much interested in his story as well.
---
A New York Times bestselling author, Eloisa James is a professor of English literature who lives with her family in New York, but who can sometimes be found in Paris or Italy. (Her husband is an honest to goodness Italian knight!) Eloisa's website offers short stories, extra chapters, and even a guide to shopping in Florence. Visit her at www.eloisajames.com.
Author Links: Website | Facebook | Twitter | Goodreads

Rafflecopter Giveaway:
a $25 gift card to an e-book retailer of choice

A large hand curled around her waist, neatly spinning her about and bringing her up against him.

Sensations skittered through her at the press of a hard male chest against hers. Miss Fairfax would have been appalled. Yet rather than pull away, Merry froze, looking up at him with her heart pounding in her ears.

"Who groped you?" he demanded.

"Who had made you so angry before you came onto the balcony?" she countered. What—or who—on earth would make a man like this so enraged?

"My fool of a brother. And now I'd like to you to answer my question."

She had already forgotten what he had asked. His gaze was so intense that she felt confused and flushed. She would never allow a man—a complete stranger—to kiss her, if that's what he was contemplating.

"What was your question?" she asked, wincing inwardly when her voice came out as breathless as a siren's.

"Who groped you?" he repeated.

He had that warrior look in his eyes that Merry found absurdly compelling. She came out with the truth before she could think better of it. "Lord Malmsbury…Lord Malmsbury lets his hands stray where they shouldn't."

"Stay away from him," he ordered, scowling.

"I appreciate your concern," Merry said with dignity as she pulled free and stepped back, "but there's no call to order me about. I have already decided to avoid his lordship—not that he has shown the slightest inclination to deepen our acquaintance, thanks to my hatpin."

"Between your weapon and his boils, I doubt he will risk further encounters." His smile reappeared. "I trust that after we are formally introduced, I may request a dance, if I promise not to grope you."

It occurred to Merry that she would rather like to be groped by this man. It was a appalling realization. She was betrothed.

He executed a perfect bow.

She dropped a curtsy, and this time did Miss Fairfax's instruction proud, nearly grazing the ground with her knee.

Merry walked back into the ballroom without looking back; no matter what her governess thought, she possessed self-control. Plenty of it.

She had almost reached the other side of the room before she turned her head and looked back.

He was nowhere in sight.

She took a seat along the wall and gave herself a good talking-to. What on earth was she thinking? Was she truly as fickle as the gossips back home believed? She may have made mistakes choosing her first two fiancés, but she had never been truly capricious.

She had truly believed that she was in love with both Bertie and Dermot. She had never flirted with a man while betrothed to another.

Not that she had precisely flirted with this man.

All right, she had flirted.

Merry groaned silently. Why hadn't she slapped him when he caught around her waist, or at the least announced her status as a soon-to-be married woman? Instead, she had just looked up at him like a silly widgeon waiting to be kissed.

---