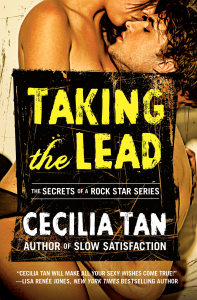 Taking the Lead by Cecilia Tan
My rating: 4 of 5 stars
TAKING THE LEAD by Cecilia Tan is an exceptionally sensual and arousing erotic romance. Every sexual encounter has meaning and progresses the plot and romance. Axel is a sex god of a rock star who forms an instant D/s connection with Ricki, heiress to the Hamilton family fortune, including an exclusive BDSM dungeon in the Hamilton mansion.
Their connection is magical, intoxicating, and hypnotic. Though they engage in BDSM scenes, it's not about wanting pain or punishment, humiliation or shame. It's the idea of dominating and submitting that gets them off; the mind f*** of trust, vulnerability, and need; and all the instant physical reactions that erupt just from the sound of their lover's voice and the smell of their skin. It is hot as hell how Axel commands and dominates Ricki with his voice or the look in his eyes and how Ricki's obedience and submission enrapture him. The closer she gets to him the deeper he falls in love. It's easy for Axel to dominate her sexually, but he doesn't have the power to acquire her emotional surrender. It has to be her choice.
Ricki wants to have a more active role in the family business and produce movies for, by, and about women. In a sexist, corporate culture, Ricki knows that she'll be labeled a slut for dating a rock star, and doesn't want a relationship with Axel to damage her reputation and sabotage her ambitions. She has also repressed her sexual and emotional needs because she lost her mother at an early age and believed that her mother's death caused her father to become an alcoholic. In many ways, Ricki feels that her choices are dictated by the men in her life-her employers, her father, and her lover. So, she has to figure out what she really wants and for the first time in her life how to "take the lead."
I hated the way Ricki was treated by her male superiors. I liked how she didn't see herself as a victim, but in the end took a proactive role in fighting the battles she could win. I liked how Axel didn't see or treat Ricki as an object and how his attraction for her was real and skin deep.
This book was somewhat difficult to review, because it's hard to explain their relationship. At the same time, I liked that their relationship was difficult to define and resisted easy labels. It seemed that Ricki's sexual and emotional needs were very much front and center and that Axel was the catalyst of her transformation.
The preview of Wild Licks was very intriguing, and I look forward to reading Book 2. I also wouldn't mind if Ricki's best friend Sakura got a novel of her own, because I'd love to see a woman of color take the lead, too.
*ARC received from NetGalley
Giveaway:
1 Print Copy (US/Can Only)
I will be giving away 1 Print Copy (US/Can only) to one awesome commenter!
Come back tomorrow for another sexy excerpt and Rafflecopter Giveaway, and find out how you can watch Cecilia's Launch Day Reading and Live Video Chat!
Giveaway ends February 6th, 2016.
Sexy Excerpt from Taking the Lead:
Where are we going? I wanted to ask, but I made the mistake of looking into those intense eyes of his. For a moment he looked as if he might say something.

Instead, we kissed. One moment we were staring into each other's eyes; the next moment our lips were sealed together.

And I'd thought I was breathless before. Axel Hawke could kiss. His mouth was sure and firm, never still. He coaxed mine open, and the more we kissed, the more I wanted to kiss. He varied the pressure, never letting me take the lead but not overwhelming me, either. His tongue teased and I felt the kiss all the way down under my gown.

This was everything I wanted, but nothing that I expected. This wasn't anything I could have imagined actually happening, and with every cell in my body focused on him, on where we touched, on the way he moved, there wasn't any brainpower left to think about anything else.

As the kiss went on, the tingle between my legs grew to a warm center of pleasure and then to an outright ache of need. When was the last time I'd actually wanted like this? When was the last time I had let myself want anything like this?

Then I was gasping for breath and trying to understand the words that were pouring hotly into my ear.

"Should I stop?"

No, no, don't you dare stop, I thought, but I couldn't let myself say that. "You . . . You should . . . but . . ." I said weakly, regretfully.

"I'll stop when you say the word 'no,' then," he murmured. He sounded a little drunk. Intoxicated by lust? Probably his performance high. Dad used to call it the strongest drug known to man. Which was pretty funny coming from an alcoholic, but that was my father for you.

"Where are we going?" I asked, thinking I'd distract Axel.

"Sakura's," he answered, and began kissing me again.

And I was kissing him back. It was simply too good to stop. He flattened me under him, a hand on either side of my head, while his tongue did its wicked work, inflaming me. Lying like that, the hardness of him was excruciatingly close to that place where I ached. I wriggled under him, telling myself I was trying to wriggle away, but I was actually trying to move the hottest part of me against him in just the right way . . .

Then came a moment when my writhing almost dislodged him and he shifted his weight to pin me completely. To see what would happen, I tried to actually wriggle free and found his arms and legs moved to keep me in place. Being pinned like that sent my desire surging! It was like a tide that had been coming in gradually suddenly hit a wall and waves of need leaped up, splashing, swamping me.

I freed my mouth to take a deeper breath and his mouth moved down to my neck. How he found the spot on my neck that was like a direct line to my sex, I don't know, but once he did, he didn't let up. The zone was just below the array of diamonds of my choker and his tongue worked it softly but relentlessly. I moaned. Why was I trying to push him away? My hands were pushing at him but he was not letting me deter him from his goal, which seemed to be mouthing my neck like his life depended on it. He had a bit of stubble on his chin but instead of giving me rug burn it made my skin tingle deliciously.

I was trying to push him away because it was too much, too ticklish, too stimulating, and yet it wasn't, because when I didn't succeed in dislodging him I didn't shatter in a million pieces: I melted even more.

And so the game went. He didn't let up pleasuring that spot on my neck with his mouth, and every time it got too intense for me, I'd try to wrestle him off and he wouldn't let me. I could say "no," isn't that what he said? But I wanted to try to push him off, to see if I could, or to see what he'd do, where his limit was.

But I wasn't close to Axel Hawke's limit. He was single-minded in his goal to make me writhe. One of his hands strayed to the diamond-hard nipple that was pushing at the fabric of my gown and his thumb brushed it, teasingly light in contrast to the never-ending motion of his tongue and mouth. I felt my clit twitch with that touch.

It almost felt like he could make me come like that, without ever getting into my panties. Amazing. I had never felt a touch like that.

I tried one more time to get free. He was simply too good, too balanced, too determined… I was along for the ride, I realized. This was completely on Axel. It was like my body finally caught up to what my brain had been trying to tell it and I stopped fighting him entirely. I surrendered to the incredible gift of the sensation building in my nerve endings. I'd never felt anything like it before. Instead of trying to push him away now, I was grinding against him, pulling him closer, harder, needing…something.

"I… I…" I gasped. "I'm going to come."

"Yes you are," he murmured.
---