Today I'm very lucky to have Avon Gale stop by my blog to share her list of all-time favorite songs, bands, and/or musicians and tell us why we should be listening to them :)
Oh, boy. I could go on and on about this one!
Murder by Death is my favorite band. They play rock-folk-americana and are AMAZING. Adam Turla has this great dark, deep voice and the band has a CELLIST and she is beautiful and amazing. Their songs are fantastic, ballads and stories about all kinds of things. I highly recommend the song "I Came Around", which is about a guy who goes to a funeral so he can mock the dead man – and then ends up getting drunk, singing songs and weeping over him after he learns what a great guy the recently deceased really was. I love this song and I totally want my funeral to involve a lot of bourbon, singing, and people telling awesome stories about my life.
Lucero: This is an alt-country/alt-rock band out of Memphis, Tennessee. I've seen them in concert more than any other band, ever. They've evolved recently to have this awesome, bluesy kind of sound and Ben Nichols, the lead singer, has a voice like gravel and gah. They're also the nicest guys in the world. My favorite song of theirs is "What Else Would You Have Me Be" but I also recommend listening to the song "Nights Like These" for a good introduction.
Ryan Adams: I know he's a brat, but he's one of the most beautiful lyricists – I swear that man is a poet. I love the song "Let it Ride" and have a tattoo of lyrics from that song on my arm (most of my tattoos are song lyrics). Ryan is also a genius at re-arranging his own music so that it sounds completely different and still amazing.
I could go on and on, but I'll add that some of my other favorites are Lindi Ortega, the Drive-By Truckers, Frank Turner and Nick Cave and the Bad Seeds.
Thank you so much for stopping by! Congrats and best wishes on your new release!
Book Name: Save of the Game
Series: Scoring Chances
This book is a 'Scoring Chances' novel. It can be read as a standalone.
Release Date: January 29, 2016
Blurb:
Storm goalie Riley Hunter is ready to let go of the past and focus on a winning season. His new roommate, Ethan Kennedy, is a loud New Yorker with a passion for social justice that matches his role as the team's enforcer. The quieter Riley is attracted to Ethan and has no idea what to do about it.
Ethan has no hesitations. As fearless as his position demands, he rushes into things without much thought for the consequences. Though they eventually warm to their passionate new bond, it doesn't come without complications. While trying to financially help Ethan, Riley must hide his family's wealth so as not to hurt Ethan's immense pride. For their relationship to work, Ethan will need to learn when to keep the gloves on and let someone help him—and Riley will have to learn it's okay to let someone past his defenses.
Pages or Words: 200 pages
Categories: Bisexual, Contemporary, Fiction, Gay Fiction, Sports, Hockey
Book Review:
Save of the Game by Avon Gale
My rating: 5 of 5 stars
Avon Gale's romantic hockey series Scoring Chances gets better and better with each new book. Hilarious, charming, and gleefully erotic, SAVE OF THE GAME is a win. The comedic dialogue is perfectly timed, and the ending was a true Cinderella story. Ethan and Riley are the hottest men in uniform in the series so far and a beyond adorable, opposites-attract, bisexual couple.
Riley grew up rich, lonely, and generally alienated from his peers, but he doesn't act or perceive of himself as that poor little rich boy. He hasn't spoken to or seen his dysfunctional family in three years. It's amazing Riley turned out to be such a great guy-strong-willed, and persevering. Sure, he might have had it easier than the next guy, but that doesn't mean he didn't work as hard. In fact, he worked even harder and is the coolest, steeliest goalie in the ECHL.
Unlike Riley, Ethan doesn't have clear goals, except to make his team better. He's also interested in volunteering and helping kids out, even though he is poor and worries about money. Ethan grew up with everything Riley didn't have, yet he's got less than $5 to his name at the start of the book. He grew up with a nurturing mom, who put her family first, and supportive, caring sisters, who all made up in some ways for him not having a father to attend his games. Riley's father has also been absent for pretty much Riley's entire life. Not growing up with a dad is one of the things Ethan and Riley have in common.
The backstory about how Ethan's parents separated was one of the most beautiful moments in the novel and showed Ethan's integrity and personal heroism. It explained how Ethan developed a tremendous sense of responsibility to take care of his family at an early age. All these pressures from growing up fast and poor to being the man in the family may have caused Ethan to be restless, agitated, and angry sometimes for no apparent reason. Because Ethan wants to take care of his family, he's reluctant to accept Riley's help with food or money. Riley wants to help out his friends, because that's what he needs and that's who he is.
Their friendship becomes complicated when Ethan borrows Riley's laptop and discovers Riley's favorite porn scenes feature a tattooed Ethan lookalike-bound and taking it on his knees. Ethan is confused by his reaction and his ambivalent feelings because he doesn't believe he's homophobic. He kisses Riley to prove to himself that he's okay with Riley wanting him. In fact, he's kind of flattered. The kiss has an unpredictable effect because Ethan really, really liked it, and wants to know and feel more.
Being roommates allows Riley and Ethan to explore their attraction without censure. Ethan's exuberance and Riley's cool as ice personality create an exciting sexual dynamic. Riley's dominance soothes Ethan's restlessness, while Ethan makes Riley's deepest fantasies come true. I absolutely loved how Ethan and Riley weren't ashamed that they were having sex and mutually acknowledged they had something more than a bicurious sex thing. Ethan and Riley didn't feel that their masculinity was threatened because they were having sex and had feelings for each other, and they didn't have scruples about saying, "I love you." It's the sexiest thing ever to see two men own and communicate their feelings. Their caring for each other, from the big things to the little things, was incredibly heartwarming.
The preview of Power Play, Scoring Chance #3 was also suspenseful and exciting. Will the worst team in the ECHL have a Cinderella season? How will Max fall in love with the guy who essentially ended his hockey career? I can't wait to find out!
Excerpt:
His phone beeped, alerting him that he had a new text message. It was from Ethan Kennedy, the defenseman the Storm had acquired before the trade deadline last spring. The rowdy Kennedy, who had a heavy New York accent and was a huge fan of the New York Rangers—a team Riley hated, by virtue of being a New Jersey Devils fan—had bunked with him for a few weeks during the finals. He'd gone back to New York after the Storm lost in the playoffs. Riley hadn't been sure if he was coming back or not, but the text message indicated he'd just gotten back to town, and would Riley mind picking him up from the airport?

And oh, he got a cheaper rate by flying into Tampa, which was three hours away. Was that a problem? And one last thing. Riley didn't need a roommate by any chance. Did he?

Riley looked around his apartment, which was nice and clean and quiet. Just like it always was, except for those few weeks last spring when Ethan was there. He was loud and messy and always in Riley's space, left half-full cans of Pepsi everywhere, drank whiskeys with dubious-sounding names, and smoked like a chimney.

be there in 3 hrs, Riley texted and grabbed a few boxes of coconut water out of his fridge. The idea of coming home alone after games reminded him of those car rides in Wyoming, and he was getting tired of the silence.
Buy the book:
Dreamspinner eBook: https://www.dreamspinnerpress.com/store/product_info.php?products_id=7362
Amazon: http://www.amazon.com/Save-Game-Scoring-Chances-Avon-ebook/dp/B01AIKR1HG/ref=sr_1_1
ARe: https://www.allromanceebooks.com/product-saveofthegame-1964634-149.html
Kobo: https://store.kobobooks.com/en-us/ebook/save-of-the-game
Meet the author:
Avon Gale was once the mayor on Foursquare of Jazzercise and Lollicup, which should tell you all you need to know about her as a person. She likes road trips, rock concerts, drinking Kentucky bourbon and yelling at hockey. She's a displaced southerner living in a liberal midwestern college town, and when she's not writing you can find her at the salon, making her clients look and feel fabulous. She never gets tired of people and their stories — either real or the ones she makes up in her head.
Where to find the author:
Facebook: https://www.facebook.com/avongalewrites
Facebook Author Page: https://www.facebook.com/authoravongale
Twitter: @avongalewrites
Pinterest: https://www.pinterest.com/avongalewrites/
Other: (join my mailing list) http://eepurl.com/bGLSrD
Goodreads Link: https://www.goodreads.com/book/show/28121630-save-of-the-game
Publisher: Dreamspinner Press
Cover Artist: Aaron Anderson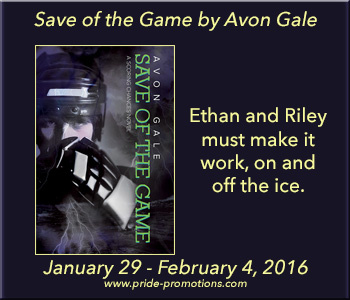 Tour Dates & Stops:
29-Jan
Scattered Thoughts & Rogue Words, Two Chicks Obsessed With Books and Eye Candy, Posy Roberts, Book Lovers 4Ever, Mikky's World of Books, Jessie G. Books, Gay Book Reviews
1-Feb
Boy Meets Boy Reviews, Kirsty Loves Books, Love Bytes, Elisa - My Reviews and Ramblings, Divine Magazine, Hearts on Fire, Open Skye Book Reviews
2-Feb
Wicked Faerie's Tales and Reviews, Inked Rainbow Reads, V's Reads, Nautical Star Books, Foxylutely Book Reviews, Fangirl Moments and My Two Cents, BFD Book Blog
3-Feb
Bayou Book Junkie, Alpha Book Club, Molly Lolly, Happily Ever Chapter, Unquietly Me, MM Good Book Reviews, 3 Chicks After Dark
4-Feb
The Novel Approach, Boys on the Brink Reviews, Three Books Over The Rainbow, Carly's Book Reviews, The Hat Party
Rafflecopter Giveaway:
Giveaway Link: 2 copies of 'Save of the Game' by Avon Gale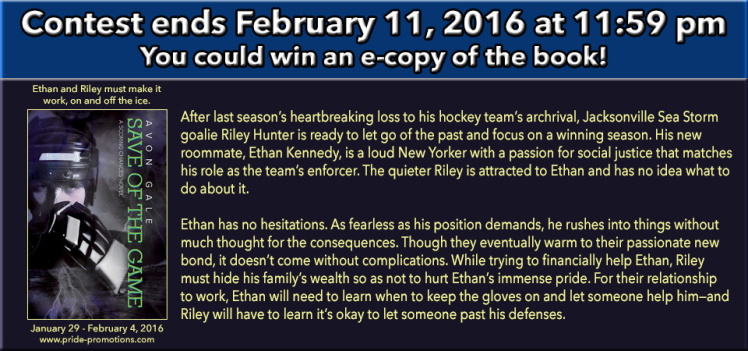 ---