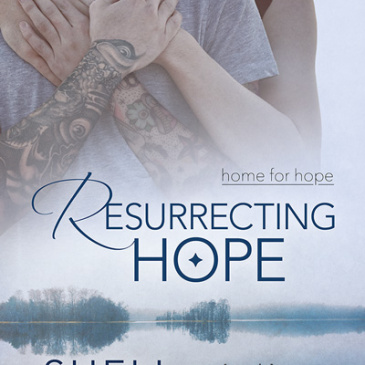 TITLE: Resurrecting Hope
SERIES: Home for Hope #2
AUTHOR: Shell Taylor
PUBLISHER: Dreamspinner Press
COVER ARTIST: L.C. Chase
LENGTH: 65,800 words
RELEASE DATE: December 25, 2015
BLURB: Adam Lancaster can't imagine how his life could possibly get any better. He's on the cusp of moving in with his boyfriend, Elijah Langley. Their charge, Kollin Haverty, finally has a loving, stable home environment, and Home for Hope is up and running, keeping over fifteen LGBT youth off the streets at night. One phone call from his birth mother, Jessica Lancaster, is all it takes to unravel Adam's carefully constructed new life.
Informing Adam his grandfather has died, Jessica expresses remorse for abandoning Adam to the state and begs him for a chance to be part of his life again. Jessica's true colors eventually shine through her façade, and Adam is devastated all over again when he discovers she is only using him to get her hands on the valuable inheritance his grandfather left him. Jessica's betrayal forces Adam so far inside his own hell, not even Elijah or Kollin can keep him from abandoning all of his responsibilities and running away. Adam will have to dig deep to find the strength to confront his birth parents, heal once and for all, and earn back his place with his new family.

"Hey, Chloe," Elijah said as he waltzed into the foyer. He carried two trays. "I brought you a sundae."
"Oh. Thank you, Elijah," Chloe said, her wide eyes darting between Adam and Jessica. "How thoughtful."
"I try every now and then," he said as he placed both trays on her desk, wriggled one of the cups out for her, and bent down to pick up Adam's forgotten water bottle. "Did you drop this?" Elijah slid the bottle into Adam's hand and allowed his fingers to linger against Adam's. The grin he offered was solely reserved for Adam. Elijah hadn't noticed Adam's mother yet. His back had been to her since he walked in the door, but with that small smile, Elijah unknowingly bolstered Adam's confidence. Adam smiled back.
"Thank you. Maybe Chloe can call someone out here to collect those. There's someone you need to meet." Elijah swiveled around to see Adam's birth mother sitting in the corner. He closed the distance between them and held out his hand with all the confidence of a multimillionaire CEO.
"Hi, there. I'm Elijah Langley. It's a pleasure to meet you."
Terror written all over her face, Jessica stared at him for a moment and then looked toward Adam.
"This is Jessica… Lancaster." Adam spoke quietly, but he knew Elijah heard because his entire body tensed. He could imagine the look on Elijah's face, given the way Jessica quickly averted her eyes.
"Oh." Elijah dropped his hand and returned to Adam's side.

Dreamspinner Press (eBook)
Dreamspinner Press (Paperback)
Amazon US
Amazon UK
All Romance eBooks
Barnes & Noble

Shell Taylor is a full-time mother of three exuberant and loving kiddos and one fur baby, a tiny but fierce Yorkie-poo named Rocco. As a Christian who practices love, grace, and humility rather than hatred and judgement, she tries her best to instill these same virtues in her rowdy kids. She just recently learned how to crochet to start bombarding new mothers with matching hats and booties. She is a huge Marvel fan and because of the superhero-plastered tees paired with jeans and Chucks has been told when helping out in her son's classroom that she looks more like the students than a parent. Her favorite way to procrastinate is to binge watch entire seasons on Netflix. Best of all, she's been married ten years to a man who's turned out to be everything she never knew she needed.
:: Facebook Page :: Twitter :: Google+ :: Goodreads ::

Winner's Prize: $10 Amazon GC
2nd Winner's Prize: E-copy of Redeeming Hope
a Rafflecopter giveaway

December 28: Kathy Mac Reviews
December 29: Diverse Reader
December 30: Unquietly Me
December 31: Louise Lyons
January 1: Drops of Ink
January 4: Prism Book Alliance
January 5: BFD Book Blog
January 6: Wicked Faeries Tales And Reviews
January 7: Divine Magazine
January 8: Love Bytes Reviews
January 11: Molly Lolly: Reader, Reviewer, Lover of Words
January 12: The Purple Rose Tea House
January 13: Elisa - My reviews and Ramblings
January 14: Frosty's Book Corner :: Bayou Book Junkie
January 15: My Fiction Nook

Thank you so much for having me! This scene is part of the conversation between Adam, Elijah, and Kollin. Adam is filling them in on why he had a panic attack at work. Enjoy!
Adam met Elijah's gaze head-on for a moment—long enough for Elijah to see the panic had returned—and turned to Kollin. "My birth mom called me today."

Whatever words Elijah expected to come out of Adam's mouth, those were dead last on his list. He knew a little about Adam's childhood, but not much more than the basic story Adam shared the night they first met. It seemed obvious Adam never expected to hear from his parents again.

"Holy shit, Adam," Kollin said. "After everything she did to you? What'd she want?"

Guilt washed over Elijah as he realized Kollin knew more about Adam's history than he did. Frowning, he recalled Kirsten's suggestion that Elijah ask Adam about his past.

Six months before.

Shit. It wasn't like Elijah didn't want to know, but he never found a good time to ask. Ensuring Kollin coped with everyday life, stressing over Kollin's parents' trial, and the constant renovations at both of HOPE's locales always seemed more important. And when they weren't dealing with those problems, Elijah selfishly enjoyed the few peaceful moments they managed to scrounge up.

"I'm not sure. Like I said, I overreacted and hung up on her once I recognized her voice. Then I kind of…. I don't know. I thought she was out of my life for good, and hearing her again…. I started hyperventilating."

"I'm sorry," Elijah murmured, helplessly squeezing Adam's hand.

Kollin sat forward on the couch. "What're you going to do if she calls back? If she knows you work at the center, she probably knows about us too."

Adam shook his head. "I don't know. I guess I'll hear what she has to say. I have no idea why she'd reach out to me now."

"Why would you even want to know?" Kollin's voice sounded harsh.

Adam closed his eyes and sighed. "I don't know if I do, kiddo."
---