Author Name: CJane Elliott

Book Name: There You Are

Series: Wild and Precious

Book: Two

Series should be read in order to best appreciate this book

Release Date: December 23, 2015
Blurb:
Bisexual musician Cody Bellstrom is a free spirit, easygoing and unattached. On a cross-country trip, Cody befriends young Sandy Nixon and gets him safely to Portland and his uncle, Phineas MacDonald. Beautiful Phineas turns Cody's life upside down, and Cody learns he's not as unattached as he aspires to be. With the hard-won knowledge of what lies underneath his need to be free, Cody wins a chance at real freedom and true love.
Ever since his longtime lover Allen died, Phineas MacDonald has lived a circumscribed life. He stopped performing as fierce drag queen Phanny Hill and works part-time in a bookstore. Phineas never expected to find love again. But when sexy and caring Cody Bellstrom turns up, Phineas feels his orderly life slipping out of his control. Cody brings him alive again, but now Phineas must find the courage to let go of his grief over Allen and give love a second chance.
Pages or Words: 33,000 words
Categories: Bisexual, Contemporary, Gay Fiction, M/M Romance, Romance
Interview:
Today I'm very lucky to be interviewing CJane Elliott, author of There You Are.
Hi CJane, thank you for agreeing to this interview. Tell us a little about yourself, your background, and your current book.
Hi there! Thank you for having me on the blog today to share about my new novella, There You Are, which is the second book in the Wild and Precious series. There You Are picks up the story of Cody Bellstrom where we left him in Wild and Precious. He moves to Portland, Oregon to join a funk band and meets the man who is to become the love of his life, Phineas MacDonald. But they both have issues to work through before they can get to their happy ending.
By the way, those who have read my novella, Mercury In Retrograde, will recognize a cameo appearance of one of the main characters, Alex Harrison, toward the end of the book. It's a short but key scene which proves to be a turning point for Cody.
1) Why do you write?
Because I love it. And hate it. In the famous words of Dorothy Parker: "I hate writing, I love having written." I love living in the world and with the characters my words have created but it's sometimes quite arduous to spit out the words themselves. As long as the enjoyment outweighs the rest, I'll keep writing.
2) Which of your books was the most difficult to write?
Aidan's Journey, the second book in the Serpentine Series. Aidan was so damaged and his road to redemption took so long. In the middle of writing the book I could barely stand it but I had to see it through and get him to his happy ending.
3) Give us an insight into your main character. What does he do that is so special?
Cody Bellstrom is a man of many talents – a great musician, a wonderful cook, a good friend to many. He's easygoing and loves taking care of people, when he's not off to his next adventure. I think that what Cody does by the end of There You Are is his bravest adventure yet: he finds the courage and insight he needs to let himself love and be loved.
4) How much research do you do for your books?
Quite a lot. When I'm writing a book, I'm constantly Googling things to make sure I'm getting it right. For There You Are, some of the things I Googled were: Amtrak, train schedules, train stations in DC and Portland, funk bands, Powell's City of Books, all-night diners in Portland, the legal rights of 18 year olds in Oregon and Illinois, etc.
5) Who designs your covers?
For the Wild and Precious series, I am lucky to have the extraordinary AngstyG as my cover artist. They have done an amazing job creating gorgeous and compelling covers. I can't wait to see what they do for the third book in the series, Sand-Man's Family!
Thanks again! Congrats on your new release!
Excerpt:
"YOU SURE about this?" Bette's pointed glance packed a world of meaning as she maneuvered the car through the DC traffic and Union Station came into view.

Cody shifted, touching the door handle to ready his escape. "Yes, I'm sure. Didn't we go over this?" In excruciating detail, he added silently but didn't dare say aloud. Not with the mood Bette was in.

"I'm giving you one more chance to come to your senses." Bette pulled up outside the train station, frowning, and turned off the engine.

She looked so unhappy, Cody wanted to change his mind. I can't, he thought.

Won't, you mean, said the Bette in his head. He reached over and laid his hand on top of hers. "You'll get along fine without me."

"That's not the point." She nailed him with a baleful scowl. "We don't want to get along without you. Dang you, Cody Bellstrom, you have no idea who you are to us." At his puzzled expression, she turned away and stared stonily through the windshield.

"Well… I guess this is it." Cody waited, but she didn't respond. "I love you, girl, you know that, right? You and Aurora." He meant it. He, Bette, and Aurora had been friends since they were college freshmen ten and a half years ago. Cody sometimes found it hard to believe that he'd known them since before Bette and Aurora had become a couple. It seemed like they'd been together forever.

A barely perceptible nod.

"Come on, Bette, don't be mad. I'll be back. I swear."

"Sure you will." She sighed and turned a softer face toward him. "Goddammit, you better. We love you. If you gotta do this, of course we can't stop you. All we want is for you to be happy."

A car honked behind them, and a uniformed officer motioned them to get moving.

"Shoot," Bette muttered. "All right, babe. Get outta here."

Cody leaned over and planted a kiss on her cheek. "I'll text. And call. And Skype."

"Okay. Send us a postcard from every stop, and take a picture of yourself in Powell's Books when you get to Portland."

"Will do."

Cody opened the door and unfurled himself from the passenger seat, then hauled out his luggage, such as it was. He traveled light; always had. A knapsack, one rolling suitcase, and his guitar, and he was good to go.

He stood on the curb and waved as Bette pulled away, then strode into the station, his spirits lifting, while Willie Nelson's "On The Road Again" played on a loop in his mind.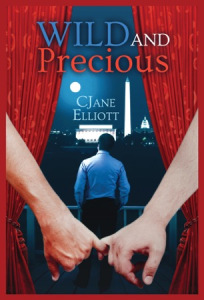 Aspiring writer Brent Granger has good friends and a great job at an arts magazine in DC, but he's batting zero in the arena of love. Brent begins to get a clue why things aren't working with women from his strong attraction to his gorgeous, gay, and already attached boss, Graham Stoneford. When he sees a personal ad from a man that quotes his favorite poet, Brent decides to do something wild and answer.
Enter Cody Bellstrom, easygoing bisexual musician, who is happy to initiate Brent in the ways of gay sex. Brent now has a new problem: he realizes he's gay and no one in his life knows it. Cody tires of hiding their relationship, but Brent finds it challenging to come out to family, friends, and especially to Graham. In the end, Brent must confront the truth of where – and with whom – his heart lies.
Buy Links:
Dreamspinner: http://www.dreamspinnerpress.com/store/product_info.php?products_id=5893
Amazon: http://www.amazon.com/Wild-Precious-CJane-Elliott-ebook/dp/B00RCFFTYS
Buy the book:
Dreamspinner:
http://www.dreamspinnerpress.com/store/product_info.php?products_id=7223
ARe:
https://www.allromanceebooks.com/product-thereyouare-1937850-149.html
Amazon:
http://www.amazon.com/There-You-Wild-Precious-Book-ebook/dp/B019BI3F6W
Apple:
https://itunes.apple.com/us/book/there-you-are/id1065972643
Kobo:
https://store.kobobooks.com/en-ca/ebook/there-you-are-3
Barnes & Noble:
http://www.barnesandnoble.com/w/there-you-are-cjane-elliott/1123128281
Google Play:
https://play.google.com/store/books/details/CJane_Elliott_There_You_Are?id=WJEvCwAAQBAJ
Meet the author:
After years of hearing characters chatting away in her head, CJane Elliott finally decided to put them on paper and hasn't looked back since. A psychotherapist by training, CJane enjoys writing sexy, passionate stories that also explore the human psyche. CJane has traveled all over North America for work and her characters are travelers, too, traveling down into their own depths to find what they need to get to the happy ending.
CJane is an ardent supporter of LGBTQ equality and is particularly fond of coming out stories.
In her spare time, CJane can be found dancing, listening to music, or watching old movies. Her husband and son support her writing habit by staying out of the way when they see her hunched over, staring intensely at her laptop.
Where to find the author:
E-mail: [email protected]
Website: http://www.cjaneelliott.com
Twitter: https://twitter.com/CJaneElliott
Facebook: https://www.facebook.com/cjane.elliott
Goodreads Link: http://www.goodreads.com/book/show/27919852-there-you-are
Publisher: Dreamspinner Press
Cover Artist: AngstyG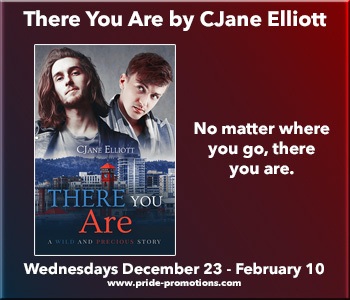 Tour Dates & Stops:
23-Dec
Book Lovers 4Ever, Louise Lyons, Joyfully Jay, The Hat Party
30-Dec
Elisa - My Reviews and Ramblings, Scattered Thoughts & Rogue Words, Love Bytes
6-Jan
Unquietly Me, Because Two Men Are Better Than One, A.M. Leibowitz
13-Jan
Havan Fellows, Two Chicks Obsessed With Books and Eye Candy, Divine Magazine, Jessie G. Books
20-Jan
Happily Ever Chapter, Bonkers About Books, My Fiction Nook, Prism Book Alliance
27-Jan
The Novel Approach, Alpha Book Club, Bayou Book Junkie
3-Feb
Molly Lolly, MM Good Book Reviews, Inked Rainbow Reads, Wicked Faerie's Tales and Reviews
10-Feb
BFD Book Blog, TTC Books and More, Elisa - My Reviews and Ramblings, Up All Night, Read All Day
Rafflecopter Giveaway Link:
Any book from CJane's backlist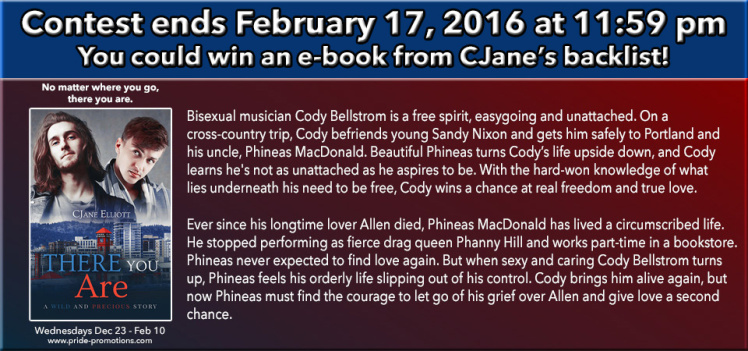 ---