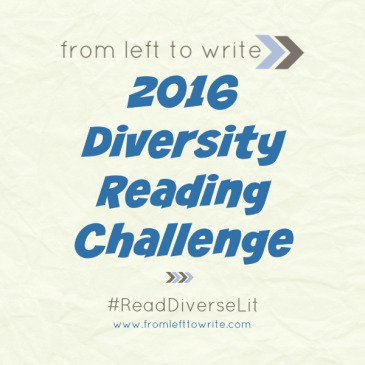 I will be participating in the Diversity Reading Challenge 2016 hosted by fromlefttowrite.com. I will be tagging any books featured on this blog that may complete an item on the checklist below with the hashtag #ReadDiverseLit. I have already completed many items on this list, since reading "diverse books" is my default. So, I will also be recommending books I've read that qualifies for this challenge.
If you're a blogger, announce your participation and leave the direct link to your blog at http://www.fromlefttowrite.com/2016-diversity-reading-challenge.
Please feel free to link back to this post :) Thank you all!
---
2016 Diversity Reading Challenge ~ Hosted by Thien-Kim (@thienkim) at fromlefttowrite.com:
One of my major goals is to read more diverse books in 2016. I realized I tend to stick with one genre, so I'm challenging myself to read a bit more widely when it comes to diverse books. To keep myself motivated, I'm partnering with my friend Pam at Unconventional Librarian for a 2016 Diversity Reading Challenge!

I hope you'll join us for this fun, year long reading challenge. While we all have our go to books, it's important to broaden our horizons by trying a new genre or author. Pam's challenge checklist focuses on children's and YA books, my list is geared towards those of us who read books for adults. Of course you can participate in both, as there are plenty of crossover!

Keep reading to find out how you can join us in the challenge.

How the Challenge Works

Join the challenge by leaving a comment below. Or if you have a blog, share it on your blog and leave a link in the Linky at the end of the post.
Save or print out a copy of the checklist (see below).
As you read books that qualify for items on the list, check it off. Books may qualify for more than one item on the list, but challenge yourself to read at least 12 books.
Share your progress and book recommendations during our monthly check-ins, including Twitter chats. (Sign-up for our newsletter so you don't miss them. Look on our sidebar for the sign-up form.)
Use #ReadDiverseLit hashtag if you share your progress on Twitter, Instagram, Facebook, or other social media. We'll share book recommendations on our Pinterest board too.

2016 Diversity Reading Challenge Checklist

As you can see, each category is fairly broad with room for interpretation. Don't worry, if you need book recommendations, just ask or tweet me. I'll share any recs or crowdsource. Here's the checklist again in text format for easier reading:

2016 Diversity Reading Challenge Checklist:

Contemporary book with a person of color on the cover (set in present day)
Historical fiction about marginalized group (due to race, ethnicity, gender, mental ability, physical ability)
Book in which character suffers from mental illness
Graphic novel featuring protagonists of color
Book written by or about someone with spectrum disorder
Romance novel with main character of color
Book of poetry by LGBT writer
Science fiction or fantasy with female main character of color
Book in which a main character has a physical disability
Memoir or biography by or about a diverse author
Book with a main character who is mixed race
Novel with an LGBT main character

Frequently Asked Questions

What qualifies as a diverse book?

Diverse books include books about or written by (but not limited to) LGBTQIA, people of color, gender diversity, people with disabilities, and ethnic, cultural, and religious minorities.

Who can participate in the challenge?

Anyone who likes to read and wants to discover new-to-them diverse authors and books.

Will update as needed.
---