Author Name: Ari McKay

Book Name: Herc's Mercs: The Harder They Fall

Series: Herc's Mercs

Book: Five

This book can be read as a standalone

Release Date: January 6, 2016
Blurb:
Chris Hardison never expected the simple consulting gig to put him on somebody's hit list, but Hercules Security's resident computer whiz never does anything by halves. Now he's on the run, guarded by gorgeous Jason Hekili, the newest member of Herc's crew. But Chris and Jason have a past, and holing up in a safe house together is as complicated as it is dangerous.
Jason still wants Chris even though his broken heart hasn't healed. He isn't sure he can trust Chris, but when a crime syndicate targets Chris for assassination, Jason has to put his life on the line to protect Chris or risk losing their second chance for happiness before it even begins.
Pages or Words: 44,000 words
Categories: Contemporary, Fiction, Gay Fiction, M/M Romance, Thriller, Action/Adventure
Excerpt:
It took him a few minutes to find the right place, and his heart lurched when he saw Jason sparring with a tall, broad-shouldered Native American merc. He hovered in the doorway of the training room, torn between wanting to run over, fling himself at Jason, and beg for forgiveness, or wanting to flee.

Jason had changed. Gone were the thick, dark waves that Chris had loved to run his fingers through; Jason had shorn it all off in favor of a buzz cut, and Chris wanted to cry at the loss. Jason's shoulders were broader, and he was even more muscular overall. After working with mercs for so long, Chris knew the difference between bodybuilder muscles and working muscles, and he could tell Jason had gotten those hard muscles from work. Jason's body wasn't the only thing that looked harder; Jason's face looked different as well. More closed off, more distant. It was enough to make Chris want to turn and run. How could he possibly stand a chance with this Jason?

Before he could slip away unnoticed, the other merc knocked Jason on his ass. Jason let out a grunt when he hit the floor, but he didn't grimace or show any other sign of pain. He simply bounded to his feet and turned—and spotted Chris.

For a long moment, he simply stood there, holding Chris' gaze, and something that Chris thought might be hope brightened his eyes. Then Jason turned away, said something to his sparring partner, and headed toward the far side of the room.

Chris' heart plummeted at that clear rejection signal, but he knew he deserved it. He lifted his chin and squared his shoulders. Jason had seen him, so he couldn't just sneak out like this had never happened, and he hadn't come all this way to give up so easily anyway. The other merc's eyebrows climbed as he watched Chris march across the room, and Chris heard him say something about going to the showers, but Chris' attention was focused entirely on Jason.

"Jason, I'd like to talk," he said firmly as he approached.

Jason draped a towel around his neck, his spine straightening before he turned slowly to face Chris. Up close, Chris could see that a slender, pale line of a scar now bisected Jason's right eyebrow. The line mercifully skipped over his eye, but picked up again on his cheek, running down to the sharp line of his jaw. It made his cheekbones look even more pronounced and pulled the line of his lips slightly crooked, though that wasn't easy to judge, since he was clenching his jaw.

"I believe you agreed six months ago that there was nothing more to say," Jason replied, his voice ragged, betraying emotions that didn't show on his face. "And you didn't want to subject yourself to a long, awkward ride."

"A lot can change in six months," Chris pointed out, aching to reach out and touch Jason but knowing he didn't have that right yet. "You have. So have I."

"Is that so?" Jason regarded him with narrowed eyes, a muscle twitching slightly in his jaw. It was something Chris recognized at once as a "tell," an indicator that Jason wasn't nearly as unaffected by Chris' presence as he was trying to appear; sometimes the little things he'd learned from being around people in the physical side of the security business were quite useful.

"Yes, that's so," Chris replied quietly. This was the part where he laid himself utterly bare and held nothing back, which was terrifying, but it was necessary if he wanted any hope of winning Jason back. "I've had plenty of time to think about what an idiot I was. I'm sorry I hurt you, and I'm sorry I didn't trust you. You didn't do anything wrong. It was all me and my stupid insecurities getting in the way. Letting you go was the biggest mistake of my life."

Jason's eyes widened slightly as if he was surprised at Chris being so blunt and forthcoming. At first, he stared back at Chris, seeming to search for something. Finally he gave a terse nod. "I'm glad you realize that," he said quietly.

"I do, and I'm willing to do anything to make up for my stupidity." Chris took a little step closer, gazing up at Jason hopefully. "I've missed you so much, Jason. I haven't been able to stop thinking about how good we were together. I came here to see if there was any way you'd consider giving me a second chance."

Again, Jason didn't answer immediately, and this time, there was no mistaking the pain in the look he gave Chris. "There's a problem with that." He glanced away from Chris and frowned. "Trust has to go both ways."
Buy the book:
http://www.torquerebooks.com/index.php?main_page=index&cPath=200
Meet the author:
Ari McKay is the professional pseudonym for Arionrhod and McKay, who collaborate on original m/m fiction. They began writing together in 2004 and finished their first original full-length novel in 2011. Recently, they've begun collaborating on designing and creating costumes to wear and compete in at Sci-Fi conventions, and they share a love of yarn and cake.
Arionrhod is an avid costumer, knitter, and all-around craft fiend, as well as a professional systems engineer. Mother of two human children and two dachshunds who think they are human, she is a voracious reader with wildly eclectic tastes, devouring romance novels, military science fiction, horror stories and Shakespeare with equal glee. She is currently preparing for the zombie apocalypse.
McKay is an English teacher who has been writing for one reason or another most of her life. She also enjoys knitting, reading, cooking, and playing video games. She has been known to knit in public. Given she has the survival skills of a gnat, she's relying on Arionrhod to help her survive the zombie apocalypse
Where to find the author:
Facebook: https://www.facebook.com/Ari-Mckay-266185570179748
Facebook Author Page: https://www.facebook.com/Ari-Mckay-266185570179748
Twitter: https://twitter.com/AriMckay1
Amazon: http://www.amazon.com/Ari-McKay/e/B00CHBT3NA
Website: www.arimckay.com
Goodreads Link: https://www.goodreads.com/author/list/6153630.Ari_McKay
Publisher: Torquere Press
Cover Artist: Kris Norris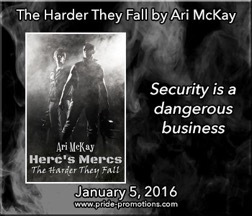 Tour Dates & Stops: January 5, 2016
Parker Williams, The Hat Party, Havan Fellows, BFD Book Blog, Bayou Book Junkie, Happily Ever Chapter, A.M. Leibowitz, Unquietly Me, V's Reads, Sinfully Addicted to All Male Romance, Scattered Thoughts & Rogue Words, Wicked Faerie's Tales and Reviews, Bonkers About Books, Fangirl Moments and My Two Cents, Molly Lolly, Alpha Book Club, Velvet Panic, MM Good Book Reviews, Inked Rainbow Reads, Cheekypee Reads and Reviews, My Fiction Nook, Kirsty Loves Books
Rafflecopter Giveaway Link:
E-copy of 'Herc's Mercs: The Harder They Fall'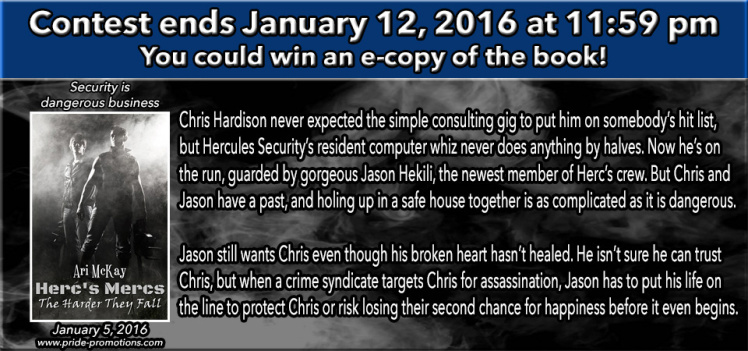 ---