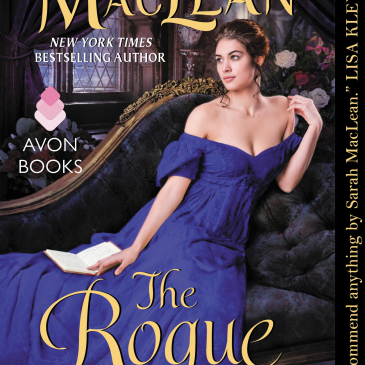 The Rogue Not Taken
Scandal & Scoundrel #1
By: Sarah MacLean
Release Date: December 29, 2015
Publisher: Avon
Lady Sophie's Society Splash
When Sophie, the least interesting of the Talbot sisters, lands her philandering brother-in-law backside-first in a goldfish pond in front of all society, she becomes the target of very public aristocratic scorn. Her only choice is to flee London, vowing to start a new life far from the aristocracy. Unfortunately, the carriage in which she stows away isn't saving her from ruin . . . it's filled with it.
Rogue's Reign of Ravishment!
Kingscote, "King," the Marquess of Eversley, has never met a woman he couldn't charm, resulting in a reputation far worse than the truth, a general sense that he's more pretty face than proper gentleman, and an irate summons home to the Scottish border. When King discovers stowaway Sophie, however, the journey becomes anything but boring.
War? Or More?
He thinks she's trying to trick him into marriage. She wouldn't have him if he were the last man on earth. But carriages bring close quarters, dark secrets, and unbearable temptation, making opposites altogether too attractive . . .
Link to Follow Tour: http://www.tastybooktours.com/2015/12/the-rogue-not-taken-scandal-scoundrel-1.html
Goodreads Link: https://www.goodreads.com/book/show/23617709-the-rogue-not-taken
Goodreads Series Link: https://www.goodreads.com/series/141485-scandal-scoundrel
Buy Links: Amazon | B & N | Google Play | iTunes | Kobo
Sarah MacLean grew up in Rhode Island, obsessed with historical romance and bemoaning the fact that she was born far too late for her own season. Her love of all things historical helped to earn her degrees from Smith College and Harvard University before she finally set pen to paper and wrote her first book.
Sarah now lives in New York City with her husband, baby daughter, their dog, and a ridiculously large collection of romance novels. She loves to hear from readers. Please visit her at www.macleanspace.com.
Author Links: Website | Facebook | Twitter | Goodreads

Rafflecopter Giveaway Link:
a Set of the Print editions of all books in the Rule of Scoundrels series (A ROGUE BY ANY OTHER NAME, ONE GOOD EARL DESERVES A LOVER, NO GOOD DUKE GOES UNPUNISHED, and NEVER JUDGE A LADY BY HER COVER) *U.S. ONLY

The Rogue Not Taken by Sarah MacLean
My rating: 5 of 5 stars
THE ROGUE NOT TAKEN by Sarah MacLean is my favorite historical romance of 2015. Enemies-to-lovers, Lady Sophie Talbot and King, Marquess of Eversley, are a sexy, fun, and wildly delightful couple, whose 19th century, comedy-of-errors, road trip involves crossdressing, a highway holdup, high-stakes gambling, and sexual relations in a moving carriage.
From the moment Sophie and King meet beside a hedge at a house party, where Sophie has shamelessly scandalized herself in front of the entire aristocracy and King has gotten thrown out the window of the lady he most recently ruined, Sophie's and King's chemistry erupts in scathing insults and witty retorts. They are equally opinionated and believe the worst in each other.
London's High Society perceives Sophie as the most uninteresting and plainest of the five Talbot sisters, who are maligned as the Soiled S's. Society looks down on Sophie's family because her father is a coalminer who won his earldom in a card game. Though the aristocracy is supposed to represent nobility, honor, and exemplary manners, Sophie perceives the aristocracy as hypocrites and snobs.
After Society shuns Sophie, she decides that she's done with London and the aristocracy, including the handsome and infuriating Marquess of Eversley, who views her as a troublesome, title-hunting woman. All Sophie wants from King is a ride in his carriage to her family's home in Mayfair. When he refuses to be saddled with her, she stows away on his carriage and embarks on an adventure of a lifetime.
Sophie is an amazing, courageous woman, who stands up for what she believes is right. King in his own way is also trying to do the right thing, while his reckless behavior masks a longstanding trauma. They both hold grudges against the people whom they believe have hurt them, and seek their independence and freedom to live the lives they think they want. They have some growing up to do, and feel trapped by aristocratic expectations of who they're supposed to be.
It was a pleasure to see their paths converge and their relationship develop. King's arrogance is tempered by his charm, vulnerability, and boyish, but understandable, idiocy, while Sophie's quick mind and fearlessness often get the best of the troubled rapscallion. Their growth from enemies to lovers was believable; it wasn't instant but took just the right time to build familiarity, trust, and mutual respect and admiration. Best of all, Sophie wasn't ashamed of but felt empowered by her sexuality.
Sophie's and King's HEA was a wonderfully romantic, dream come true. Their journey was beyond amusing, populated with lively secondary characters, particularly Sophie's sisters, and expressed modern, feminist values. THE ROGUE NOT TAKEN is an exciting start to Sarah MacLean's new Scandal & Scoundrel series. I very much look forward to reading Sarah MacLean's future books.

Intro from Sarah MacLean

Being shot on the Great North Road isn't exactly a thing people expect to happen, and Lady Sophie Talbot finds herself in the rooms above The Warbling Wren pub, under the welcome care of a rather mad doctor and the watchful eye of the rather infuriating (and infuriatingly handsome) Kingscote, Marquess of Eversley. There are worse things, she supposes. Or are there? Not for King.)

—

"If you want a bath, you'll have to accept my help," he said.

She pursed her lips at that, her gaze settling longingly on the steaming bath. "You mustn't look."

"I wouldn't dream of it." It might have been the most obvious lie he'd ever told.

Somehow, she believed it, nodding and throwing back the coverlet to step out of the bed. She came to her feet, the top of her head at his chin, and he resisted the urge to help her across the room. "How do you feel?" he asked, hearing the gravel in his words. He cleared his throat.

"As though I've been shot, I'd imagine."

He raised a brow. "Clever. There's food when you've bathed." The words summoned a low growl from her, and her hands flew to her stomach. Her cheeks turned red, and he smiled. "I take it you are hungry."

"It seems so," she said.

"Food after the bath. And then sleep."

She met his gaze. "You're very domineering."

"It's a particular talent."

"What with you being called King."

"Name is destiny."

She moved past him to the high copper bathtub. He resumed his place against the wall, arms crossed, watching her carefully as she reached down, her long fingers trailing in the hot water as she sighed her anticipation. The sound was like gunfire in the room—pure, unadulterated pleasure. It was delicious.

King stiffened. He was not interested in the lady's pleasure.

If only someone would tell his body that.

---