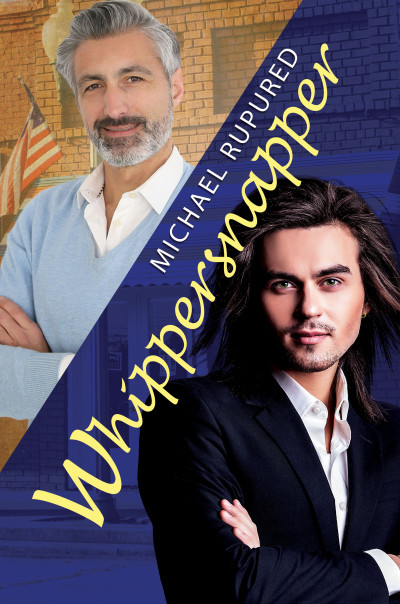 TITLE: Whippersnapper
AUTHOR: Michael Rupured
PUBLISHER: Dreamspinner Press
COVER ARTIST: Maria Fanning
LENGTH: 220 Pages
GENRE: Contemporary
RELEASE DATE: January 29, 2016
BLURB: Tellumo Magnamater is a fresh-out-of-college, first-year English teacher at Salt Lick County High School in Kentucky. He rides the bus to and from work, and every day he walks to the gym behind his small efficiency apartment to exercise. Perhaps because of being raised by two lesbians, Tellumo is attracted to older men. He sets his sights on fifty-something available bachelor Oliver Crumbly. But Tellumo isn't the only resident interested in Oliver.
Peggy Tucker, a widow approaching her sixtieth birthday, is determined to marry again, and she thinks Oliver is her perfect match. Despite Tellumo and Peggy striking up a friendship at the gym, neither realizes they are interested in the same man. But the joke might be on both of them. Oliver, a retired history teacher, is the original crotchety old man who hates everything and everybody—especially young people.

Oliver Crumbly watched the Salt Lick County snowplow scrape the street in front of his house with a mixture of satisfaction and relief. Ten days of complaining had finally paid off. Two feet of snow had fallen in the day or two leading up to Christmas. A week later, before plows or salt trucks had reached Thoroughbred Acres, another six inches had fallen.
He'd been trapped at home since Christmas Eve. Worn treads had kept his Taurus from getting any traction on the flat street in front of his house. Driving out of the hilly subdivision would have been impossible.
Bill Pinkley, head meteorologist for local Channel 13, said El Nino or El Nina had caused the winter storm. Oliver couldn't remember which, or why what happened so far away made a difference in the weather in Northern Kentucky, but if Bill Pinkley said so, it must be true. Heeding his advice to stock up on groceries ahead of the first flurries had kept Oliver from running out of food.
Thirty inches was a lot of snow to have fallen in a week's time, and Calumet Circle was in the back of Thoroughbred Acres. Still, ten days was too long to wait for snow removal. Calls to the county road department had fallen on deaf ears. The surly customer service representative had hung up on him—four times. Miss Bethany Williams, Customer Service Representative II, was about to learn messing with Oliver Crumbly was a mistake. He'd mailed a lengthy letter detailing her incompetence and rude behavior to the director of the county road department with copies to the mayor, Oliver's representative on the city council, and the Kentucky and U.S. Departments of Transportation.
Too bad Kevin Leonard had missed the blizzard. For eight years, Oliver's ex had complained about the lack of winter snow. But then, nothing in Kentucky had suited Kevin. He'd grown up in the upper Midwest, where life was better in every way. Eight years of Kevin's delusions of grandeur, condescending attitude, and manufactured facts had been a good four too many.
Oliver didn't miss him one little bit. Not anymore. He dropped into his recliner, turned on the television, and flipped to the TV Guide Channel. His forty-eight-year-old ex had returned to North Dakota last February to live with his parents, and according to a mutual friend, was still unemployed. Because Mr. and Mrs. Leonard had often driven their camper down to Kentucky for weeklong visits, Oliver knew them a lot better than he'd have preferred. In his opinion, the sorry son and his parents deserved each other.
The viewing options scrolling on the screen at a snail's pace failed to keep his attention, and his mind wandered. Falling for the wrong guys was Oliver's gift. The first time his heart had been broken, he'd believed he would die. But he'd lived to love again… and again… and again… and again. Five times he'd survived a broken heart and the end of yet another relationship gone bad. Getting over kicking men out of his life had grown easier with experience. After Kevin left, Oliver's battle-scarred heart had healed in record-breaking time.

Dreamspinner Press (eBook)
Dreamspinner Press (Paperback)
Amazon US
Amazon UK
All Romance eBooks
Barnes & Noble
Kobo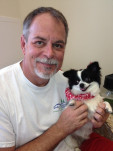 Michael Rupured loves to write. Before learning the alphabet, he filled page after page with rows of tiny circles he now believes were his first novels, and has been writing ever since. He lives in Athens, Georgia, grew up in Lexington, Kentucky, came out as a gay man at the age of twenty-one in the late 1970s, and considers surviving his wild and reckless twenties to have been a miracle. To find out what Michael's up to now, visit his blog (rupured.com), follow him on Twitter (@crotchetyman) or send an e-mail message to mrupured@gmail.com.
:: Website & Blog :: Facebook :: Twitter :: Google+ ::

Winner's Prize: $25 Amazon Gift Card
a Rafflecopter giveaway

January 27: Prism Book Alliance
January 28: Drops of Ink
January 29: The Purple Rose Tea House
February 1: Kathy Mac Reviews
February 2: Cathy Writes Romance
February 3: Diverse Reader
February 4: Divine Magazine
February 5: The Novel Approach
February 8: Elisa - My reviews and Ramblings
February 9: Loving Without Limits
February 10: MM Good Book Reviews
February 11: Love Bytes Reviews
February 12: Unquietly Me
February 15: BFD Book Blog
February 16: Bayou Book Junkie
February 17: 3 Chicks After Dark
February 18: Alpha Book Club
February 19: My Fiction Nook

Oliver couldn't prove anything, but was certain Kevin had fooled around with Vic Hunter, the owner of Body by God, in his office at the gym. Oliver had planned to drop his membership when his contract ran out in February, but the gym had again changed hands in November, reopening after a weeklong renovation as Fit as a Fiddle. The country-western theme appealed to rednecks of both genders and, by far, was the gym's most successful iteration. For Oliver, however, the jury was still out.

He grumbled under his breath about the pickup trucks of various hues, sizes, and distances from the ground filling the parking lot as he searched for a space one of the big gas-guzzlers hadn't encroached upon. Few in Fallisville needed a monster pickup truck, and they had little time for the gym. Oliver wondered when pickup trucks had become cool. He was about to park under a rusty red Chevrolet with eight-foot tires when he found an open space.

He stashed his wallet under the seat, grabbed his towel, and locked the door. The air was cool enough for a jacket, but he left his in the car. Lockers were an option, but unless he really had to pee, he avoided the locker room. Straight men in various stages of undress made him uncomfortable.

The gym's pretty blonde receptionist called to mind a Dallas Cowboys Cheerleader. The slim, athletic young woman wore western boots, tight-fitting jeans, a cropped top, and a ten-gallon hat. The white hat and shirt bore the Fit as a Fiddle logo, with red letters made to look like planks ripped from an old barn sandwiched between very fit, updated versions of L'il Abner and Daisy Mae. The receptionist scanned the card on Oliver's key ring, furrowed her brow as she studied the computer screen for a few seconds, and then smiled. "Have a great workout, Mr. Crumbly."

Oliver headed toward the Corral for his Boot Steppin' class, searching for familiar faces as he made his way through the crowded facility. January was always busy at the gym, but Oliver suspected cabin fever had more to do with today's mob than New Year's resolutions. He saw the Yeller checking himself out in the mirror, and a few other guys he didn't care to meet who often worked out when Oliver did. He wondered if they had a nickname for him, like the Loner, Old Dude, or maybe Dances with Women.

Nine times out of ten, Oliver was the only man in the classes he attended. A quick glance around the room confirmed today's Boot Steppin' class would be no exception. He tossed his keys and towel on the floor, grabbed a step platform and two sets of risers from the shelves along the wall, and set up in his usual spot, right of center on the front row for unobstructed views of the instructor and Oliver's reflection in the mirrored front wall.

As the instructor made her way to the front of the room, Oliver warmed up with a few deep-knee bends and leg stretches. He glanced at his watch. Exactly three o'clock. Time to get this show on the road.
---