Interview with Tina Blenke:
Today I'm very lucky to be interviewing Tina Blenke author of Life Worth Living.
Hi Tina, thank you for agreeing to this interview. Tell us a little about yourself, your background, and your current book.
Thanks so much for having me today. I've been in the M/M genre for a couple of years now and started out with a paranormal novel about a pansexual vampire with amnesia. I followed that with a series of wolf shifter short stories and now I'm following it up with my new contemporary novel. This story is a sweet college crush that grows into a summer love but there's a lot of turmoil in their lives. So many secrets surround them, both their own and those of others, that threaten to upend their love and in the end they must choose to let go and be honest with themselves before they can have that happy ever after.
1) What are your ambitions for your writing career?
I'm happy at the pace I've been writing – currently about 1-2 a year. With a full-time job that I love and family commitments, this works well for me. So far, I've been able to sneak in a few conventions as well and those are fantastic for meeting other writers, publishers and the most important people of all – the readers.
2) How many published books do you have? Can you tell us something about them?
Life Worth Living makes my fifth publication and my first with Wilde City. This also happens to be my first contemporary story, too. I have four paranormals with eXtasy books that include Athan's Kiss and the Shifting Paradigm series. Athan is about a vampire that doesn't know that he's been turned. (He figures it out pretty damn quick, I assure you!) The Shifting Paradigm currently has three short stories: Shifting Weight, Shifting Gears and Shifting Cargo. This set is about Wolf Shifters looking for their one destined mate but in the background there is a turf war building between the Shifters and the Changeless humans. I have the fourth story in draft form and hope to finish it and another one by the end of the year.
3) Your main character wants to cook something special for his love interest. What does he make?
Funny you should ask! Quentin is quite the cook and dishes up delicious meals for Jake on more than one occasion in Life Worth Living – and he does this completely naked. The first meal was breakfast the morning after their first sexual encounter and the second meal is dinner for his boyfriend of pasta. Unfortunately, their dinner goes cold. In another scene, Quentin offers dessert of chocolate and strawberries. Yep, lots of nudity, sex and food are in this story. It's college what can I say?
4) What are you working on at the moment? What's it about?
I'm working on the sequel to Life Worth Living entitled Like Nobody Else. There is a character that Jake meets at the museum and I needed to explore his story a little deeper. We find out that Dorian has commitment issues and is a bit of an exhibitionist in that most of the time his sexual exploits occur in public. He meets a man who takes the relationship at face value and Dorian is tempter to pursue more. Unfortunately, Dorian is also being stalked by a violent jilted lover and every time Dorian is attacked he leashes out on his new boyfriend. A decent guy can only take so much.
5) Do you aim for a set amount of words/pages per day?
When I'm waiting for beta reviews, between stories or having some down time, I don't pressure myself on word count. Though, I'm debating setting a reasonable new year resolution starting in February. (I'll let you know how that turns out.) When I'm in the zone, I tend to write between 500 to 2000 words per day. Again, I don't get down on myself for living my life. Without it, I wouldn't have any stories to tell and I'm sure Jake would agree. Edits are a different ballgame. When I'm down to the wire and I need to add scenes or additional chapters, I can get those revisions back within hours at minimum or a week at maximum.
Thanks again! Congrats on your new release!
---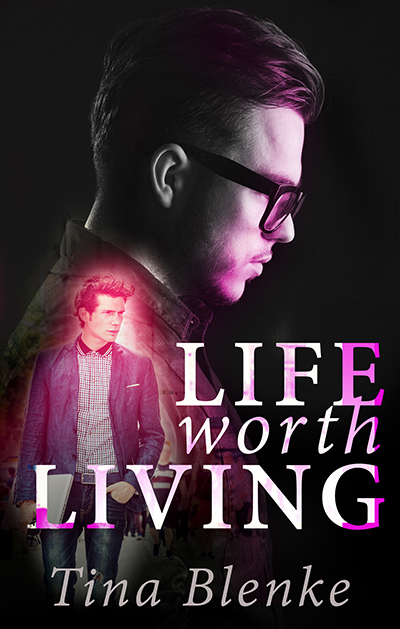 Author Name: Tina Blenke
Book Name: Life Worth Living
Release Date: December 9, 2015
Blurb:
Jake has been hiding in plain sight, always a few rows behind his straight-crush Quentin during their four years of college. He's been successful so far but just as they're about to graduate, Quentin finds out Jake's secret and Quentin shares one of his own. He's in the closet.
Jake isn't about to let this opportunity pass him by especially when Quentin is scheduled to leave for the East coast in a few short summer months. Willing to keep Quentin's secret from his upper crust politically-fueled homophobic family, Jake shares his bed and eventually his heart.
Quentin's life in the closet is non-negotiable. His family has strong political ties and any word about their son's sexuality would cast him out of the family and out of his inheritance which he desperately needs to finish his education. He's been successful keeping his sexuality a secret for years until he meets the irresistibly adorable Jake at an early graduation party.
Quentin is unable to ignore his desire for Jake and makes the life-altering leap that holds his future in the balance. Locked away from the public eye, the two men admit their love for one another. In three short months, they will be forced to part ways for graduate school but the challenges of potential scrutiny, family commitment and an un-promised future may prove to be more than they can overcome.
Pages or Words: 63,267
Categories: Contemporary, Erotica, Gay Fiction, M/M Romance, Romance
Excerpt:
"Cora? He's really gone, isn't he?"

"You did what you had to do to save both your life and his career. You didn't do a goddamned thing wrong, you hear me? You are one of the bravest men I know," she growled.

"Yeah, right. I'm the gayest man you know."

"You shut the fuck up right now, Jake. I don't let anyone bad-mouth you around me and that includes you. It takes a real man to stand up for who he truly is on the inside. The easy way out would be to hide who you are and live in the closet for fear of what the world will say or do to you."

"Now that's not fair," I argued immediately, thinking of Quentin's situation.

"And for what? Admitting that you want to love another man? It's a beautiful romantic notion, Jake. You throw yourself bare to the world for love, the noblest feeling in the world, and all you expect in return is someone to return the feeling. And what does that rat bastard do? He shows you what it feels like to be loved, only there was a condition on it, wasn't there? As long as he could hide you from the world and not be proud of the honest, kind and decent man that you are. He should have been yelling your name from the mountains or something. Instead? Instead, he runs and hides so he can save his face from his family."
Buy the book:
Wilde City: https://www.wildecity.com/books/product/life-worth-living/#.VmYPdNKrTtR
Amazon: http://amzn.to/1PhQu6m
Add to Goodreads: https://www.goodreads.com/book/show/28245086-life-worth-living
Meet the author: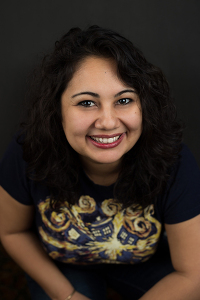 Tina is a retired Air Force brat and has lived in several states as well as a handful of countries. She has always had a soft spot for literature and is a voracious reader. When she isn't writing, she can be found cuddled up with a good book. Though Tina adores a thrilling novel with sappy lovesick heroes, she is terrified of things that go bump in the night. This makes for quite a complicated relationship with zombies, something that she just can't get enough of.
Where to find the author:
Facebook Author Page: https://www.facebook.com/pages/Tina-Blenke-Author/487878157926041?ref=hl
Twitter: https://twitter.com/tinablenke
Other: http://tinablenke.wordpress.com/
Other: http://tinablenke.wix.com/author
Amazon: https://www.amazon.com/author/tinablenke
Goodreads Link: https://www.goodreads.com/author/show/7257278.Tina_Blenke
Publisher: Wilde City Press
Cover Artist: Adrian Nicholas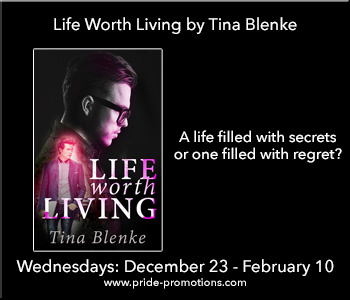 Tour Dates & Stops:
23-Dec
Scattered Thoughts & Rogue Words, Full Moon Dreaming
30-Dec
Love Bytes, Kirsty Loves Books, Book Lovers 4Ever
6-Jan
Wake Up Your Wild Side, Divine Magazine, MM Good Book Reviews, Hearts on Fire
13-Jan
BFD Book Blog, The Hat Party, My Fiction Nook, Louise Lyons
20-Jan
KathyMac Reviews, Unquietly Me, Inked Rainbow Reads, Jessie G. Books
27-Jan
Wicked Faerie's Tales and Reviews, Dawn's Reading Nook, Alpha Book Club, Havan Fellows
3-Feb
Happily Ever Chapter, TTC Books and More, Elisa - My Reviews and Ramblings, Prism Book Alliance
10-Feb
The Novel Approach, Bayou Book Junkie, Molly Lolly, Two Chicks Obsessed With Books and Eye Candy
Rafflecopter Giveaway Link:
3 - $5 Amazon gift cards (1 winner each)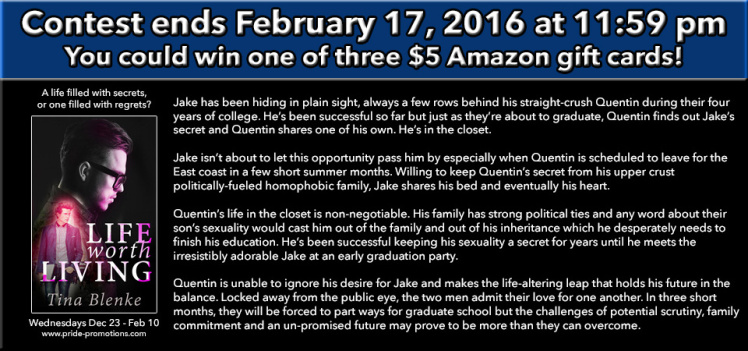 ---