A Steaming Good Time by Heidi Cullinan
I rejected several taglines and cover concepts for this book. Because Clockwork Heart is about steampunk and alternate history, because the blurb talked about war and intrigue, everyone gave me dark, angsty marketing material. I kept sending it back. "It's supposed to be fun. Not funny, not comedic, but it should be fun. I want people to look at the cover of this novel and read the copy and think, "Wow, that's going to be a good time."
Clockwork Heart was penned during two rough patches of health. I've written several books about dealing with chronic pain and disability, but more than anything Clockwork Heart is the book about how none of that should be allowed to keep you from adventure. The characters in the book have limitations, some of them external, some of them internal, some of them logistical, some of them physical—but they overcome them all, and they have quite the excitement in the process.
I do believe, as an author and as a person, that this should be true for all of us in life. We do have the power to decide how we navigate our lives, whether we let it seem like a burden or an opportunity, no matter what material we have to begin with. We are all soldiers and tinkers both, capable of endurance but also of fiddling until things turn out in a manner a little bit more pleasant or tolerable.
Come to Clockwork Heart because you want a good steampunk novel or you love alternate history. Come because you love a war story or a tale of clever engineering. Come because you crave adventure or want another dose of hope. Come for any reason you like—I've done my best to lay a good table for you to feast.
And I have the dirigible balloon hoisted and ready for the flight.
---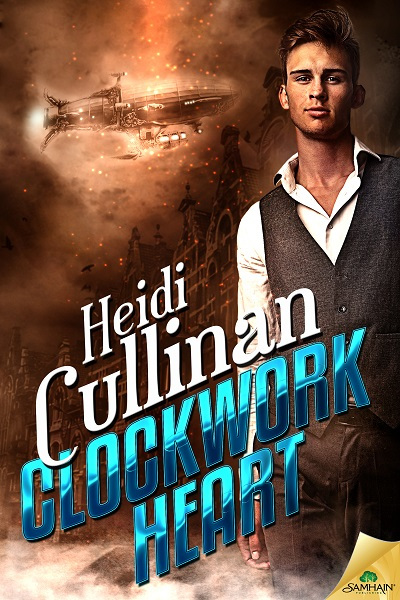 Clockwork Heart
By: Heidi Cullinan
Release Date: February 2, 2016
Publisher: Samhain Publishing
Love, adventure and a steaming good time.
As the French army leader's bastard son, Cornelius Stevens enjoys a great deal of latitude. But when he saves an enemy soldier using clockwork parts, he's well aware he risks hanging for treason. That doesn't worry him half as much, however, as the realization he's falling for his patient.
Johann Berger never expected to survive his regiment's suicide attack on Calais, much less wake up with mechanical parts. To avoid discovery, he's forced to hide in plain sight as Cornelius's lover—a role Johann finds himself taking to surprisingly well.
When a threat is made on Cornelius's life, Johann learns the secret of the device implanted in his chest—a mythical weapon both warring countries would kill to obtain. Caught up in a political frenzy, in league with pirates, dodging rogue spies, mobsters and princesses with deadly parasols, Cornelius and Johann have no time to contemplate how they ended up in this mess. All they know is, the only way out is together—or not at all.
Warning: Contains tinkers, excessive clockwork appendages, and a cloud-sweeping tour of Europe. A little absinthe, a little theft, a little exhibitionism. Men who love men, women who love women, and some who aren't particular.
Genre: Historical/Alternate History/Steampunk
Length: 80,000 words (estimated)
Buy Links: Samhain | ARe | B&N | Amazon | Google Play | iTunes | Kobo
Add to Goodreads
Heidi Cullinan has always enjoyed a good love story, provided it has a happy ending. Proud to be from the first Midwestern state with full marriage equality, Heidi is a vocal advocate for LGBT rights. She writes positive-outcome romances for LGBT characters struggling against insurmountable odds because she believes there's no such thing as too much happy ever after. When Heidi isn't writing, she enjoys cooking, reading, playing with her cats, and watching television with her family. Find out more about Heidi at heidicullinan.com.
Author Links: Facebook | Twitter | Tumblr | Pinterest | Goodreads
Rafflecopter Giveaway
Clockwork Heart Prize Pack: Paperback + Clockwork Heart Keychain Charm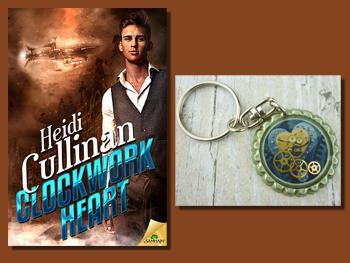 ---
Exclusive Excerpt
"This is exactly what I mean." Valentin gestured between them. "You don't know anything about him, Cornelius. What is going on?"

Cornelius didn't know what to say. He had no truth to bend around, because he still didn't know why he was so obsessed with Johann, not enough to tell Valentin, not enough to understand it himself. Had Johann actually been a pirate? Why had he not said so before? He kept his gaze away from Valentin, wishing he knew a way out of this conversation.

"He is a good lover," Johann said, out of nowhere.

Cornelius stiffened, and Valentin snorted. "He is. But you don't look like lovers to me."

"Is not good to show love loud." Johann gestured to the window facing the street. "People are angry. Arrest."

Valentin rolled his eyes. "Please. We pay the police regularly. In any event, they'd never dare arrest Conny. Not unless they knew it was part of one of his games."

Conny wanted to object to this depiction of his sexual debauchery, or at least Val pointing it out, but Johann spoke first. "People arrest Österreicher. Hate me, like you do."

Valentin pursed his lips. "Fine. Kiss him now."

Cornelius's entire body blushed, flashing between cold terror and anticipation. "Valentin."

"Stop playing prude. You're France's greatest exhibitionist. With enough cocaine and absinthe, you've let men fuck you over tables. I've watched your public performance enough I can recognize you in an orgy by the dimple in your left ass cheek. You can't object to a kiss in front of me. He can hardly either, as he did as much that first night." Valentin looked at Johann and pointed at Cornelius. "Kiss him. Prove you're lovers."

Johann quite noticeably did not blush or shy away. He turned to Cornelius, waiting for permission.

Cornelius couldn't give it. He'd worked hard to avoid this. He'd grown fond of Johann as a friend, a companion—true, they had difficulty communicating still, but the man was so easy to be around. Every time Cornelius had to leave him, all he thought about was when he'd be able to see that rough, smiling face. He hadn't felt this way about anyone, ever, whether or not they'd slept together. Johann was patient and kind, and his smile could undo kinks in Cornelius's weary soul. Conny swallowed hard and shut his eyes, unable to face the possibility of Johann being so repulsed by having to feign playing lovers once more that he might insist on leaving.

Soft lips brushed Cornelius's own and made him open his eyes.

Johann hovered over Cornelius's mouth, staring back at him. He didn't look upset. He didn't look repulsed. He didn't exactly look aroused, either. Only concerned.

That was the crux of the matter, Cornelius realized. He wanted Johann to want him too. Because yes, Cornelius wanted to kiss Johann. More every day. And though Valentin was right, he loved easily and often, there was something different about Johann. He wanted to kiss him, to make love to him, but he would rather have Johann as a friend and companion than a lover. If kissing Johann to pacify Valentin's paranoia lost Cornelius their friendship, it would shatter him. He didn't know why. He couldn't explain how this had happened when he barely knew the man, when he couldn't even be certain the man actually wanted him that way. He only knew he wanted.

With Johann's kiss still burning his lips, Cornelius was ready to admit he very nearly needed.
---