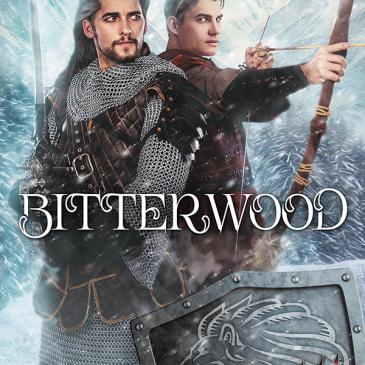 About Bitterwood
Outrunning a winter storm in the north, Captain Faran of the King's Guard leads his men and a young mage named Meric to shelter at Bitterwood Manor, the ancestral home of the Daenes. Faran and his troops have been searching for weeks for a mysterious, lion-like beast that reportedly haunts the uncharted northern woods. For Meric, finding that prophesied cat is a matter of life and death.
Though Faran is deeply focused on their mission, the enigmatic Joss Daene, Lord of Bitterwood, fascinates him. Strong and proud, Joss is everything Faran wants in a lover. More, if he were honest. But Joss belongs to Bitterwood, and Faran to his duty.
Together they will need to brave the oldest, darkest part of the Bitterwood in the coldest, deepest snows of winter to find the legendary cat. But time is running out—for Meric, for the kingdom, and for Faran and Joss's fledgling love.
Purchase at Riptide: http://riptidepublishing.com/titles/bitterwood
About Rowan Speedwell
An unrepentant biblioholic, Rowan Speedwell spends half her time pretending to be a law librarian, half her time pretending to be a database manager, half her time pretending to be a fifteenth-century Aragonese noblewoman, half her time . . . wait a minute . . .  Hmm.  Well, one thing she doesn't pretend to be is good at math.  She is good at pretending, though.
In her copious spare time (hah) she does needlework, calligraphy and illumination, and makes jewelry.  She has a master's degree in history from the University of Chicago, is a member of the Society for Creative Anachronism, and lives in a Chicago suburb with the obligatory Writer's Cat and way too many books.
Connect with Rowan:
Website:Â rowanspeedwell.com
Twitter:Â @RowanSpeedwell
Goodreads:Â goodreads.com/Rowan_Speedwell
Giveaway
To celebrate the release of Bitterwood, one lucky winner will receive a $15 Amazon Gift Card! Leave a comment with your contact info to enter the contest. Entries close at midnight, Eastern time, on September 24, 2016. Contest is NOT restricted to U.S. entries. Thanks for following the tour, and don't forget to leave your contact info!
Excerpt
"I've never seen that happen before,� Eidar said as they made their way back down the steps into the undercroft. "It was amazing.�

"What happened?�

"You saw. That boy and Eissa. They just knew. Father said that sometimes happens with us Daenes, when we meet our true loves, but Eissa had a girl he liked. Or used to. Anyway, I didn't even know he liked men. I don't think he knew. And that boy—�

"Meric,� Faran supplied.

"—he knew, too! I've never heard of that happening. But he's a mage, isn't he? He has the look of it. Is he your battle-mage? He seems a bit frail for that.�

"He's not our battle-mage. We're not out for a fight—our mission is relatively peaceful.�

"Too bad,� Eidar said with all the innocence of youth. "I've never seen a battle-mage in action.�

"I wish I had not,� Faran said dryly. "Enjoy your youth, boy, while you can.�

They went out a side door nearer the stables, where the man Wuluf was tying a thick cord to a stone post at shoulder height. There were perhaps only a dozen yards between the stable door and manor, but the wind had already begun to bite, and a few flakes were starting to circle down from the lowering sky. Wuluf finished, then looked up at them. "Another quarter hour, I'm guessing, before she starts. You can check with your sergeant, but when I left them a moment ago they were settling in snugly.�

"I will. Thank you for setting the rope out.�

Wuluf grunted in lieu of thanks, but went on to say, "Animals can't tend themselves, but men can. Your troops will be safe enough for three days, and the gale will blow itself out by then. So says me lord, and he's never wrong.�

"You'd best go quickly,� Eidar said, shivering. "Father wants you to come back in. I'll wait inside. Pull the bell rope when you're back.� He pointed to a loop of cord hanging beneath the eaves.

"Fool,� Wuluf said, "not wearin' a cloak. Get your arse indoors, boy, before you catch your death.�

"I'll be back in a moment,� Faran said, and left them to their bickering.

Wuluf was right. The men were settled in. The stable boasted loose boxes rather than smaller stalls, which were filled with clean hay, and their horses were happily crunching on the grain in the mangers. The men were gathered around a small fire in the hearth on the far wall.

Sergeant Aldin rose when he saw Faran approaching down the long corridor between the stalls. "Sir. All settled, as ordered. That man-at-arms brought over fresh supplies—enough for a week.�

"Good,� Faran said. "I've been told it will be three days. Don't gamble away your savings in the meantime.�

Aldin grinned.

Faran regarded them all in the warm light from the hearth. "Ah, lads, I'd stay with you and enjoy it more, but Lord Meric is my primary responsibility this time.�

"Aye, sir. We've known that all along. And time's precious.�

"True enough,� Faran said. "Good e'en, men. Rest well.� He hated to leave the warm circle of light. Most of the men had been with him five or more years, some since his first posting, and they'd all become friends on the various missions they'd undertaken for the king: first the true king, then his brutish successor, and now again for the true heir. There wasn't one among them he wouldn't trust with his life and, more importantly, with Meric's life.

Thank all the gods that they'd found this place in time to take shelter and had Meric's assurances that the folk here would be hospitable. Most of these outlying manors were, but he'd had some frightening experiences with some that weren't. Here, though, the provender would be fresh and healthy and the shelter safe.

He found his mount in a loose box, along with his saddlebags and the important leather tube that held his writ. It wore a strange horse blanket with a yellow cat in rampant position stitched on one side. He stared at the cat a long moment, wondering if that was a sign or just a coincidence. Then with a sigh, he flung the bags over his shoulder and picked up the rest of his gear to carry back with him.

When he opened the door, the wind nearly took it from his hand, slamming it back against the wall and straining the hinges. With an effort, he shoved it closed and staggered against the wind to the side door.

It opened before he could reach for the cord, and hands drew him into the warmth of the undercroft. He looked up to thank Eidar, but it was Daene's warm dark eyes that met his, and his strong hands that had pulled him in out of the wind. They stood wordless a moment in the dimness, then Daene pushed the heavy door closed and dropped the latch.

"I was beginning to worry,� Daene said. "The storm's rising.�

"So I see,� Faran said.

"You'll bunk with us, in our quarters,� his host said with a curt nod. "Eidar will sleep with the guards—you'll share with Meric and I with Eissa.�

"Eissa and Meric,� Faran began, but Daene just shook his head.

"We'll talk later. Let's get you settled and fed. Your men are comfortable?�

Faran nodded. "In finer surroundings than many a man this night. Your stables are some of the best I've seen and well provisioned. My man said you sent over fresh food for them. I'm grateful.�

"Good. Come, then.�
---