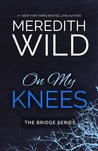 On My Knees by Meredith Wild
My rating: 4 of 5 stars
At the start of this second chance, adult contemporary romance, the main characters, Maya and Cameron, have a long journey ahead before they can be what each other needs. When Cam proposed to Maya, Cam was about to join the military and Maya was still in college. She couldn't accept Cam's proposal and go away with him, because she didn't want him to know that her mom was an alcoholic and she had to stay in college in order to take care of her family. Cam didn't wait for her, but walked away and never spoke to her again. Then, Maya's mom disappeared.
Four years later, when Cam and Maya encounter each other in New York, Cam finds out that Maya isn't that sweet, innocent girl he had proposed to. Instead, Maya is hard and distant. She drinks a lot, to the point of blacking out, and smokes when she's stressed out. Cam doesn't know what happened to change her and doesn't consider that he had hurt her too by walking away and not giving her time, that he had basically given her an ultimatum.
Though neither characters were perfect, I definitely had more sympathy for Maya than Cam. Maya is suffering from a broken heart, was abandoned by both the love of her life and her mother, and works in a cutthroat environment. Her male boss treats her like crap, and she doesn't have many female allies in Wall Street. Though Maya is self-destructive outside the office, she works hard but can't seem to get ahead. She is generally disillusioned, and doesn't trust Cam with her heart.
Cam is initially very critical of Maya's behavior, slut-shaming her in a couple scenes and blaming her for causing her troubles with her coworkers. He claims to still be in love with her and is determined to find out what she's hiding from him and what caused her to change. He tells her she has low self-esteem and criticizes her because he cares for her and wants her to be better. Yet, though he's critical, he doesn't leave her this time, he makes amends and apologizes for blaming her, and she tones down her behavior. Maya becomes more stable emotionally because having Cam in her life again makes her happy.
I personally felt that Maya didn't make Cam work hard enough to sweep her off her feet. Maya was perfectly capable of solving her problems, and stood up for herself in the end. I didn't think Cam was a real great hero, but he was Maya's choice. All that matters is that Maya got her happy ending and Cam will treat her right.
ON MY KNEES is a solid, sexy contemporary romance, serious, dark, and emotionally intense. I hope the next book in the Bridge series has a lighter tone and a little more humor, because I do want to know what happens next and what's really going on in the Bridge family.
*ARC received from the author in exchange for an honest review.