Interview with Carrie Pack:
Today I'm very lucky to be interviewing Carrie Pack, author of In the Present Tense.
Hi Carrie, thank you for agreeing to this interview. Tell us a little about yourself, your background, and your current book.
Hi, I'm so glad you invited me to be on your blog! In the Present Tense is my second novel and I'm really excited to share it with everyone. It's the story of a young man named Miles whose dissociative disorder manifests itself as time travel. Over the course of the story, Miles struggles to fix his past by changing his future and along the way, realizes not everything is as it seems.
1) What's the easiest thing about writing?
I know not everyone will agree, but I think editing is the easiest. I love getting my manuscript back with suggestions on how I can make it better. Of course, I always grumble at first because my ego is going, "How dare this editor think I don't know where that comma should be!" But then I put it away for a day or two, and when I come back to it, I find the editor is almost always right. I love my editors. They make me a better writer.
2) Name one author (living or dead) you'd like to write with?
Jenny Lawson (aka The Bloggess). She is probably the funniest writer to ever exist—at least who I'm aware of. I've read her blog for years and was so excited when she published. And her second book came out last year! We probably wouldn't get much writing done, but I bet we'd have a blast anyway. Can you tell I like to pretend we're besties even though we've never met?
3) Tell us about your cover and how it came about.
I think I spewed some random words at our art director CB Messer, who is an absolute genius, and she managed to turn it into the most gorgeous cover I've ever seen. It perfectly encapsulates the chaos in Miles's world but it's also really eye-catching. One of the many perks to being an Interlude Press author is the gorgeous cover art.
4) Is this book part of a series? Do you have ideas that could make it into a series? If it is a series, tell us a little about it.
Right now it's a standalone. That said, I have an idea for a sequel that could someday see the light of day. I'd really like to explore some of the secondary characters more. There are definitely more stories to tell in Miles's world. Even if I don't publish a full-length novel, I may do an ebook short.
5) Word association. Tell us the first thing that comes to mind when you read these words.
Thanks again & Congrats on your new release!
---
Book Name: In The Present Tense
Release Date: May 19, 2016
Blurb:
Miles Lawson goes to sleep dreaming of a future with his boyfriend Adam, but wakes to find he is married to Ana, an acquaintance from high school. When he learns he has been time traveling, Miles is consumed with finding a cure for his rare condition—and finding his first love. But will he be able to convince Adam he is telling the truth before it's too late?
Pages or Words: 336 pages
Categories: Bisexual, Contemporary, Fiction, Gay Fiction, Romance, Science Fiction
Excerpt:
Miles sat there and tried to make out shapes and colors in the dark room as he searched his brain for a memory of anything.

Nothing looked familiar. His desk, his drum set, the sheets—all gone. Not one thing looked the way it had when he'd fallen asleep, and Ana certainly hadn't been in his bed.

He tried to replay the previous day's events, but everything seemed fuzzy, like a fogged bathroom mirror that he couldn't wipe clean.

Why was everything so fuzzy?

Last night… What happened last night?

Adam had come over and they were watching TV together, and Adam had given him a small stuffed giraffe because Miles was scared about having surgery. He reached for his left arm, expecting to find the cast that had been there for the last two months, but it wasn't there. His heart began to beat so loudly he glanced over at Ana to make sure she was still asleep.

Unable to determine what had happened to his cast, Miles resumed his tally of the previous evening's chain of events. At around ten-thirty, his mom said Adam had to leave because they had to get up early to go to the hospital. He had taken his pain meds and gone to sleep with the phantom of Adam's goodnight kiss on his cheek. He'd been happy.

He'd gotten a text from Ana earlier in the evening, but she was only wishing him luck with the surgery. She hadn't come over. In fact, as far as Miles knew, Ana had been several hours away in her dorm room.

So how had she gotten into his bedroom? And who had changed his sheets?

He threw off the covers and stood up, noticing he was only wearing a tight-fitting pair of boxer briefs instead of his usual basketball shorts.

He looked around the room for anything familiar, but it was still dark out, and all he could see were shadows and vague shapes. On the dresser opposite the bed, he found a few framed photos. Squinting to see without turning on a light, Miles studied the images carefully.

As his eyes focused, he recognized a couple of the photos. One was from last year's prom: Adam wearing that ridiculous corsage Miles had bought him, Ana being dipped by her date, David, as all four of them smiled widely in front of a cheesy faux tropical scene. One of the frames held a collage of photos of his and Ana's friends. He recognized Adam, Lucky, Antonio, Dahlia and Brienne. But the last one, the largest of all the photos, was of him and Ana—her in a flowing white dress and him in a black suit, both wearing broad smiles and flanked by Miles's parents and a woman Miles had only seen once: Julia Espinosa, Ana's mother.

A loud clatter echoed through the bedroom as the frame hit the edge of the dresser and fell to the hardwood floor. This wasn't his room, and he didn't remember that photo being taken.

"Go back to sleep," Ana mumbled, her voice muffled by the pillow.

"Ana," he whispered, risking her full anger, but unable to stop himself, "we're married."

"Thanks for the update. Now go back to sleep before I divorce your dumb ass."

He dropped to the floor on his knees, barely even noticing the sharp pain of bare skin hitting the hard surface.

Married. To Ana?

What the hell had happened?
Buy the book:
Interlude Press: http://store.interludepress.com/search?q=In+the+Present+Tense
Amazon: http://amzn.to/1T0HsbU
Barnes & Noble: http://www.barnesandnoble.com/w/in-the-present-tense-carrie-pack/1122958656?ean=2940152470178
Apple iBookstore: https://itunes.apple.com/us/book/in-the-present-tense/id1059526936?mt=11
All Romance eBooks: https://www.allromanceebooks.com/product-inthepresenttense-2036688-341.html?referrer=55feb862851f8
Smashwords: https://www.smashwords.com/books/view/593337
Book Depository: http://www.bookdepository.com/In-the-Present-Tense/9781941530788
Indiebound: http://www.indiebound.org/book/9781941530788?aff=interludepress
Meet the author:
Carrie Pack is the author of Designs On You and a part-time college professor who recently left her job in marketing to actively pursue her writing career. Carrie lives in Florida, which she fondly calls America's Wang, with her husband and four cats.
Where to find the author:
Facebook Author Page: https://www.facebook.com/mscarriepack
Twitter: https://twitter.com/carriepack
Pinterest: https://www.pinterest.com/mscarriepack/
Website: www.carriepack.com
Goodreads Link: https://www.goodreads.com/book/show/28490338-in-the-present-tense
Publisher: Interlude Press
Cover Artist: CB Messer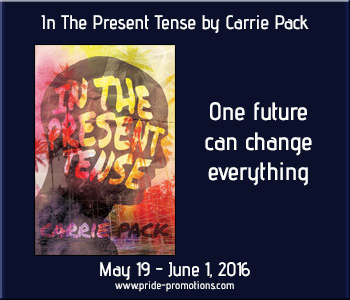 Tour Dates & Stops:
19-May: Sinfully Addicted to All Male Romance, Oh My Shelves, Happily Ever Chapter
20-May: The Novel Approach, Scattered Thoughts & Rogue Words, Velvet Panic, Havan Fellows
23-May: Anna Butler Fiction, Outrageous Heroes, Alpha Book Club, Jessie G. Books
24-May: Unquietly Me, Dawn's Reading Nook, BFD Book Blog
25-May: Inked Rainbow Reads, Divine Magazine, Boys on the Brink Reviews
26-May: Love Bytes, Louise Lyons, A.M. Leibowitz
27-May: My Fiction Nook, Elisa - My Reviews and Ramblings
30-May: Bayou Book Junkie, MM Good Book Reviews
31-May: Wicked Faerie's Tales and Reviews, TTC Books and More
1-Jun: Prism Book Alliance, Molly Lolly
Rafflecopter Giveaway:
Giveaway Link: Grand Prize: $25 Interlude Press Gift Card, 5 First Prizes: eCopy of In The Present Tense by Carrie Pack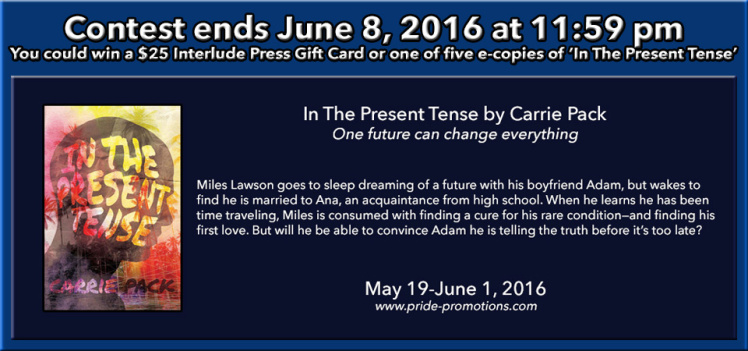 ---