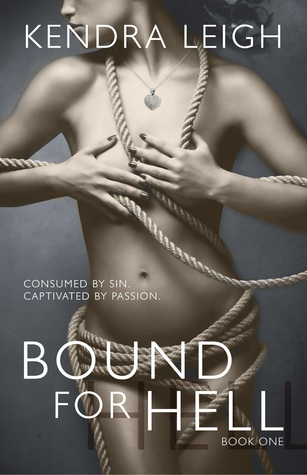 Bound for Hell
By: Kendra Leigh
Genre: Erotic Romance, suspense
Ethan Wilde. Billionaire. Business Man.
Passionate. Powerful. Persistent.
One of New York's most eligible bachelors.
Angel Lawson. Photographer. Gallery Owner.
Burdened. Beautiful. Broken.
A woman bound by the ropes of her sins and forgotten past, fearful of her future.
A chance encounter…
Consumed by guilt and tormented by the bonds of a tragic past, Angel Lawson's life has been a solitary journey, condemned to live without love. In order to preserve her damaged soul from further rejection, sex is as close to a man as she ever plans to get. She was already hell-bound for her sins. One more wasn't going to hurt …
… or so she thought.
When a passionate encounter throws her into the world of Ethan Wilde, Angel is helpless to resist the irrefutable desire and depth of raw emotion he ignites in her.
Ethan is as intense as he is sinfully sexy. Irretrievably captivated by Angel, he seems just as intent on understanding her naked soul as he is desperate to possess every inch of her naked body.
Angel craves his touch like a drug and yearns for the love he promises, but surrendering to the feelings he's unearthed will mean exposing her fears and releasing the demons buried for a lifetime. Exposing her heart will leave it at risk of being broken.
Will Angel choose to leave her life of solitude behind, or is the choice no longer hers?
Ethan Wilde is used to getting what he wants … and what he wants is Angel.
Note: Relentlessly sexy. Emotionally deep. Tangled, twisted, intricately woven love story with romance and suspense.
For readers 18 and over due to explicit sexual content.

Start this intensely erotic and suspenseful journey today …

Get it for $0.99/£0.99 for a Limited Time Only

#FREE on Kindle Unlimited.

Buy Bound for Hell on Amazon:

viewbook.at/BOUND-FOR-HELL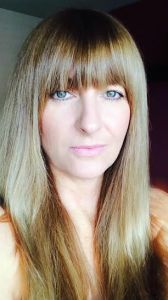 MEET THE AUTHOR
Kendra Leigh fell in love with books and the wonderful world of reading from a very young age. She was at her happiest when Enid Blyton whisked her away up into the magical lands at the top of the Faraway Tree with Moon-face and the rest of the gang. Books have been her constant source of escapism ever since. Currently residing in the UK, Kendra devotes her life to her devilishly handsome partner, scandalously beautiful daughter and cute as hell Shih-Tzu. As well as writing and reading, Kendra loves great TV, especially Dexter, Homeland and Breaking Bad.
Connect with Kendra: Website | Facebook | Twitter | Amazon Author Page | Goodreads
EXCERPT
With a sexy growl, he turned to leave the room, the sight of his all-masculine form stirring a need within and suddenly an overwhelming urge washed over me. Before I knew what I was doing, I'd picked up the discarded towel from the floor, twirled it into a spiraled rope and flicked him hard on the behind. The action made a loud thwacking noise, and I knew that the end of the towel had caught him perfectly, the image of a large, purple colored splotch right in the middle of his left butt cheek, forming in my mind.

He stopped dead, waited a few agonizing beats, and slowly began to turn at the waist to meet my gaze. Wide eyes and parted lips revealed an expression that flitted somewhere between disbelief and outrage.

Oh shit!

I swallowed hard. There was no doubt I was in trouble, but of what kind, I wasn't sure. Hitching a brow, I pursed my lips, trying my best to appear fearless and challenging—not easy when you're butt naked and vulnerable.

With knotted brows and narrowed eyes, he turned fully to face me, hands on his hips, head cocked to one side. "Did you just towel snap me, Miss Lawson?"

I raised my chin defiantly. "What if I did?"

Stunned by my brazenness, he continued to stare accusingly; the only evidence that he was fighting the need to smirk was the slight twitching of his lips. "Oh. She's not only foolishly audacious, but she has a sassy mouth besides."

Exhilarated panic flooded me, and suddenly I was torn between the urges to giggle, to scream, to flee, and to beg for forgiveness. I said and did nothing, just pushed my chin out in overstated obstinacy.

"Not so clever to begin a towel snapping war when you're butt naked, Miss Lawson." His eyes slid greedily and victoriously over my bare body.

I felt incredibly exposed. He was right. I was naked and defenseless. He was strong, mean-looking, and blocking my escape route. A look of exultance slid onto his perfect face, his lips twitching with a touch of smugness. Christ, he looked fucking sexy.

I glanced around the room, cautiously weighing my options. Ethan's eyes seemed to follow mine, moving between him, the open doorway, and my robe, which was discarded on the floor where I'd left it.

"What? You really think you have a hope in hell of escaping?" He shook his head, making a tsking noise.

Shrugging, I replied foolishly, "What? You think you have a hope in hell of stopping me?"

His eyes lit up with the challenge, a smoldering intensity settling on his sinful mouth as his tongue flicked out to run over his upper lip. My gaze shifted briefly to the bulge of his swollen cock straining beneath the fabric of his jeans, leaving me in no doubt as to the level of his aroused state. My mouth kinked into a wry smile.

"I'll tell you what I'm going to do," he said guilefully. "I'll give you to the count to three to make your escape, and then I'm coming after you. And when I catch you—which I will—I'm going to spank your pert, pink ass. And then … I'm going to fuck you … Hard."
OTHER BOOKS IN THE SERIES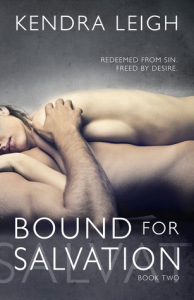 Bound For Salvation (#2)
Hell was hot, but the flames of deliverance might be the ones to burn …
For the first time in living memory, Angel Lawson feels cherished.
Ethan Wilde has taught her that love is possible for all, even the sinners among us. The bonds of his love free her from the shackles of her guilt. Inch by inch, he's slid under her skin, folding himself around her soul like a soothing blanket. His love nourishes her starving heart, and his passion fuels the scorching flames of her deepest desires, driving her to the blissful edge of sweet insanity.
Brick by brick, she tears down the protective wall she's built around her heart, and the ice inside begins to thaw.
To Ethan, Angel is the sole reason he exists, the blood in his veins, the drug to his addiction. He vows to mend her, to help her confront her demons and come to terms with a buried past that continues to haunt her.
But what lies beneath the surface of Ethan's past?
Pasts left hidden to rot become dirty secrets. Secrets that can tear even the strongest love apart.
And secrets have a habit of revealing themselves when least expected…
Get it for #FREE on Kindle Unlimited, or



Buy Bound For Salvation on Amazon:

http://viewbook.at/BOUND-FOR-SALVATION
The bonds of their love saw them through the ravaging storm to the promise of peace and the chance to breathe …
Angel once believed her soul belonged to the Devil. Now she willingly gives every part of her—mind, body and soul—to the man whose love mends her a little more each day.
Ethan knows Hell is no place for an angel, especially not his Angel. He would sacrifice his soul every day of his life in order to save hers.
Fuelled by an almost obsessive desire, their need for each other ignites a passion that most couples could find destructive, but instead the flames of their possessive vigilance only seem to feed the fire of their insatiable hunger. The slaying of Ethan's demons has made their fortress of love stronger than ever.
But Angel continues to paper over the cracks of her troubled past, running from the demons that chase her and the nightmares that plague her. When a twist of fate forces her to confront them, she finally begins to accept that her repressed memories need to be explored in order to attain the peace she craves.
But in her search for Nirvana, Angel discovers far more than buried memories.
What happens when the worst nightmare you've ever encountered is the one you wake up in?
When the past comes face to face with the present to reveal a web of diseased secrets and lies?
And the only road you can take leads to one destination … Hell.
Get it for #Free on Kindle Unlimited or

Buy Bound For Nirvana on Amazon:

http://viewBook.at/BOUND-FOR-NIRVANA
RAFFLECOPTER GIVEAWAY
Giveaway Link: $20 Amazon Giftcard
---