Guest Post:
Deanna Wadsworth talks about her writing goals for this year!
I am a huge goal setter. In 2016 I have a lot on my plate, but the goal is to do some quality promoting on the three books I've already sold. FINDING HIS FANTASY is the first one, and another 1Night Stand book from Decadent Publishing called TO GOOD TO BE TRUE which will be out later this spring.
As KD Worth, Facebook│Twitter, I write YA and I'm happy to announce that the much anticipated sequel to THE GRIM LIFE is off to beta readers and will soon be on my editor's desk over at Harmony Ink Press. It's called THE WOUNDED HEART and yes, it's as tear jerking as it sounds. Kody and Max have a lotta stuff coming their way and hopefully their hearts can handle it.
I also have the continuation of my Dreamspinner short story A CUPID'S WAGER coming in June. It's tentatively called NAUGHTY CUPID and I'm in the middle of edits now. It's a nice 75K story readers will really be able to sink their teeth into. It's got time travel, Aztec gods, naughty cupids and some hot sex LOL You won't wanna miss that!
As soon as I have this first round of edits back to my editor for Naughty Cupid, I'm really excited to get started on a contemporary gay romance that has been literally filling my every waking second. These guys will not be silent and there is a lot of drama in this book.
Once that book is completed, I will do another NAUGHTY NORTH POLE book for Christmas and then hopefully another 1Night Stand story.
By then canning season will be on (yes I grow veggies and can them for my family to enjoy all winter just like grandma used to do) so I won't have too much time, but I'm sure the muse will find another story for me to tell.
Either way, 2016 is going to be a big year, and I hope all of you enjoy the stories told and yet told. I know I'll have fun writing them!
Book Name: Finding His Fantasy
Series: 1Night Stand
Book can be read as a standalone
(Please note: Many authors have contributed to this series. Finding His Fantasy is Deanna's fourth addition.)
Release Date: February 9, 2016
Blurb:
Forty-eight year old art gallery owner Paul Strait loves the nightlife—wild parties, stiff cocktails, and even stiffer men! But his decadent lifestyle has grown lonely and now he's looking for love. Some days it seems that what he wants must be a fantasy. Hoping that the perfect guy is out there he enlists the help of Madame Eve.
After all, a fantasy service like 1Night Stand should be able to deliver his fantasy man, right?
Josef Debrossé runs an exotic gay bar in the Caribbean known only to locals and select tourists. The many patrons coming in and out of his bar ensure Josef never has a shortage of lovers but he's grown tired of being just a vacation fling.
Josef wants to be another man's lover and partner, not a mere souvenir from the islands.
Lost in a dance of lust and allure, both men are thrilled with Madame Eve's choice for them and feel an intense connection the moment they meet. Flirting over drinks quickly leads to the bedroom. But after their fiery lust has been quenched, the night goes from fantasy to reality without warning. Secrets and frightening pasts threaten to shatter the magical illusion of their perfect date.
Will this budding romance survive in the face of reality?
Pages or Words: 32,000 words
Categories: Contemporary, M/M Romance, Romance, Interracial, Mature
Excerpt:
"I am Josef Debrossé." He had yet to release Paul's hand—not that he had any complaints— and his blood warmed from touching a total stranger he'd paid to meet.

He let out a breathless chuckle, not surprised he'd been holding his breath.

"Paul Strait," he replied, caught up in something…giddiness? Excitement? Sexual tension? He wasn't sure, but he felt like a silly girl swooning on her first date. Almost as an afterthought, he added his signature tagline, "And I'm anything but."

A rich resonant laughter danced around them, weaving a spell and capturing Paul inside it until he didn't even know which way was up or down.

"C'est bon, Paul Strait," he said, those hypnotic eyes sparkling.

When Josef released him, he had to resist the urge to take the man's hand back and never let go, fearing he might disappear. Instead, he downed the rest of his champagne, scolding himself for being so ridiculous. He nodded toward the bar where plenty of stools sat open. "Can I buy you a drink?"

At the resort, everything was included, but it seemed like the most logical thing to say. Much classier than, "Are you wearing underwear?"
Buy the book:
Amazon: http://www.amazon.com/Finding-His-Fantasy-1Night-Stand-ebook/dp/B01B3G5WJI
ARe: https://www.allromanceebooks.com/product-findinghisfantasy1nightstandseries-1973467-340.html
Meet the author:
Deanna Wadsworth might be a bestselling erotica author, but she leads a pretty vanilla life in Ohio with her wonderful husband and a couple adorable cocker spaniels. She has been spinning tales and penning stories since childhood, and her first erotic novella was published in 2010. She has served multiple board positions at her local RWA chapter and with Rainbow Romance Writers of America. When she isn't writing books or brainstorming with friends, you can find her making people gorgeous in a beauty salon. She loves music and dancing, and can often be seen hanging out on the sandbar in the muddy Maumee River or chilling with her hubby and a cocktail in their basement bar. In between all that fun, Deanna cherishes the quiet times when she can let her wildly active imagination have the full run of her mind. Her fascination with people and the interworkings of their relationships have always inspired her to write romance with spice and love without boundaries.
Author Links: Website │ Facebook │ Twitter │ Pinterest │ Goodreads
You can also find her young adult alter ego, K.D. Worth: Facebook │ Twitter
Buy Deanna's books at Dreamspinner Press, Decadent Publishing or at any reputable eBook seller
Goodreads Link: http://www.goodreads.com/author/show/4264579.Deanna_Wadsworth
Publisher: Decadent Publishing
Cover Artist: Tibbs Designs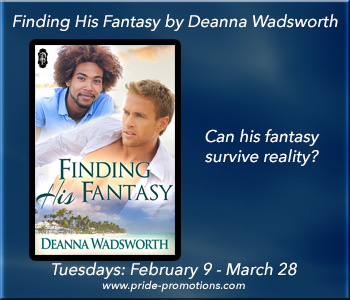 Tour Dates & Stops:
9-Feb
BFD Book Blog, Havan Fellows, Book Lovers 4Ever
16-Feb
Fangirl Moments and My Two Cents, Wicked Faerie's Reads and Reviews
23-Feb
Happily Ever Chapter, Jessie G. Books, A.M. Leibowitz, MM Good Book Reviews, Love Bytes
1-Mar
Book Reviews, Rants, and Raves, V's Reads, Divine Magazine
8-Mar
Unquietly Me, Dawn's Reading Nook, Inked Rainbow Reads
15-Mar
Elisa - My Reviews and Ramblings, Molly Lolly
22-Mar
Fangirl Moments and My Two Cents, Bayou Book Junkie
28-Mar
Hearts on Fire, Making It Happen
Rafflecopter Giveaway:
Giveaway Link: 2 winners, choice of 1 of my previous 1Night Stand books each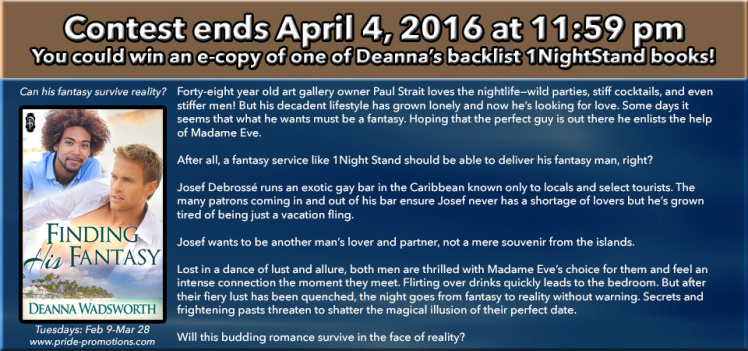 ---