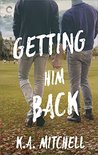 Getting Him Back by K.A. Mitchell
My rating: 3 of 5 stars
This was a sweet, endearing, often humorous romance with some low-angst drama. It was an easy, quick read, and didn't have a lot of intense highs and lows. Though, Wyatt was a real intense guy, who didn't like to feel vulnerable and show his emotions. The kisses Wyatt and Ethan shared were pretty epic, but the story itself didn't give me great big feels.
The sex scenes were well-written, expressing the characters' complex emotions, the joys and anxieties of discovering a new, young love. I enjoyed the story for what it was, though I would have preferred a more emotionally intense story. It was certainly entertaining, and Ethan's friends were all likeable. Ethan and Wyatt made each other laugh, gave each other what they needed, and were perfect for each other. The ending was a bit abrupt, but it wasn't a cliffhanger. Getting Him Back was a nice escape, and I'm interested in seeing how their story continues in Ethan & Wyatt #2.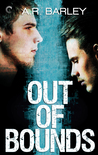 Out of Bounds by A.R. Barley
My rating: 3 of 5 stars
This New Adult MM romance was a solid, quick, and easy read. Nick was a huge teddy bear, who did everything he could to make Jesse feel comfortable and safe in their shared dorm room. He didn't want Jesse to be afraid of getting beat up again, especially because Nick was a big, burly man. It was sweet how he would walk Jesse to and from class and hold his hand. He waited until Jesse was ready and for Jesse to initiate the kissing, touching, and finally sex, which comprised of almost everything vanilla, including phone sex and setxing. Jesse was a bossy, cute twink, who brought out Nick's protective instincts and possessiveness.
Nick had a rough childhood. I wondered why he wasn't turned over to social services or put in the foster care system after his mom threw him out with a one-way train ticket to New York when he was only fifteen. Shouldn't his mother have been held accountable? How can parents get away with abandoning their children like that? It's mind boggling really. So, it was nice that Jesse gave Nick the unconditional love he had been missing and deserved.
I felt the characters were a little too idealized. Nick is described as being 6'6″ or so, which would make him almost as tall as some NBA players. I thought the dialogue in some parts was a little corny. Still, I liked the story overall. It was a quick, easy, entertaining escape.
---
*ARCs received from NetGalley for an honest review.