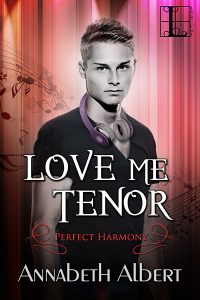 Love Me Tenor by Annabeth Albert
My rating: 4 of 5 stars
Love Me Tenor is a totally adorbs, interracial, New Adult, MM romance. A capella singer, Trevor came from a very conservative Christian household which disowned him when he came out. He is broke, has health issues, and doesn't have many options after graduating from college, so he joins a singing competition where he's placed in a boy band called Stand Out! The producers want to brand the group as gay couples and play up their cute factor, because the band that has the most likes and is most popular on social media will win the competition.
Trevor is paired with an African American, Jalen, whom Trevor stereotypes as a straight jock. Straight jocks happens to be exactly Trevor's type, because he doesn't want and doesn't believe he deserves a real emotional, human connection. At first, Trevor and Jalen don't like each other. Trevor doesn't want to pretend to be boyfriends with a straight guy; he doesn't want to be boyfriends with anyone. Jalen doesn't like how Trevor makes assumptions about who he is and who he likes. Being black, he's dealt with being stereotyped all his life.
But when they room together, Trevor can't hide his attraction for Jalen, and Jalen reveals that he really is gay. While pretending to be boyfriends, they can't avoid interacting, and as they grow closer Jalen feels protective toward Trevor and wants to show Trevor how to like himself and accept Jalen's caring attention and affection. Jalen has a need to fix the people in his life and make sure they're taken care of. The book doesn't quite explain why he has this particular caretaking need. Perhaps it's because he wanted to make sure the people in his life didn't leave him since he was bounced around foster homes until his moms adopted him.
Jalen is a funny, cocky guy, and all his one liners made me laugh. However, I wasn't a big fan of how Jalen as an African American POC was described as having "caramel skin," which is too familiar and inauthentic. Jalen would never describe himself that way. Instead, he sees himself as brown-skinned, which is an authentic perspective.
I liked how sweet and caring Jalen was and how Trevor gradually opened up to him. For awhile, they can't figure out if they're just pretending. It's sweet when they figure out it's real. The sex scenes were kinky, hot, and erotic, but also real, tender, and vulnerable. Falling in love was the biggest win in their lives. I enjoyed reading about their journey from enemies to friends and lovers, the drama of the competition, and the various complications that tested and ultimately strengthened their love. And I liked how Trevor finally found and owned his voice.
The secondary characters had their own dramas and stories, which provided some funny moments as well. Love Me Tenor is a fun, emotionally intense, heartwarming, and entertaining MM romance.
*ARC received from NetGalley for an honest review.