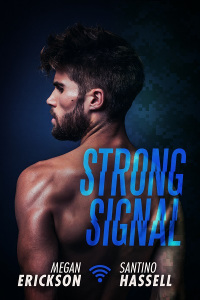 Strong Signal by Megan Erickson & Santino Hassell
My rating: 4 of 5 stars
I was under the impression that this would be a quick, humorous, sexy, fun read, but it turned out to be more complex than I expected. The main characters are perfectly imperfect, and their love story is compelling and complicated. The atmosphere is overall gritty and textured with the everyday realities of surviving the rough underbelly of an unforgiving America. I loved how both the military and gaming cultures were authentically integrated in the storytelling. The sex scenes were for the most part pretty damn hot.
Kai suffers from a mental illness, anxiety so severe it prevents him from living a healthy, functional life and being in healthy, functional relationships. His only friend in real life is his teenage neighbor; the rest of his friends are followers and fans of his live gaming, Twitch stream channel. Though his being gay in the generally misogynistic gaming community would have alienated him, he has built a positive, inclusive online community, which he relies on for social support.
Kai receives income from donations and subscriptions to his channel, video game testing, and ads from old masturbation webcam videos he made after he quit dancing professionally. He's unable to dance anymore because he can't manage his panic attacks and anxiety. He now works from home. He hardly ever leaves his house and orders most of the things he needs online for delivery. He thinks he's doing fine with his reclusive lifestyle and isn't motivated to improve his quality of life, until he encounters a fellow gamer in a massively multiplayer online role playing game (MMORPG).
Being a pro gamer, Kai easily defeats the player, which prompts his opponent to seek revenge. Garrett is a gruff and antisocial Army mechanic stationed in Afghanistan, waiting for his deployment to expire so he can find a way to make it in the real world. He escapes his dreary routine by playing online video games. He rarely participates in group activities with his guild in the game and prefers to play solo, which is actually kind of funny, because the whole point of MMOs is being able to connect with potentially millions of gamers. He hasn't been in a real relationship because he isn't exactly out and fears getting bashed and his family's disapproval. Instead, he relieves his sexual needs with guys he calls "tour homos," straight guys who have sex with other guys because they can't get it elsewhere during their deployments. They were quite despicable toward Garrett and called him the base slut.
Garrett wants revenge on Kai so much that he starts gathering intel on the mysterious gamer. He follows Kai on Twitch, visits his Tumblr page, and discovers his webcam videos. He is instantly attracted to the beautiful, fascinating, popular twink, but feels protective about the way trolls on Kai's Twitch channel and viewers of Kai's old webcam videos objectify him. He sends Kai an email warning him that his old videos are still online because he's concerned that Kai might receive unwanted attention. When Garrett was in high school, his online crush had stalked him, and he doesn't want the same thing to happen to Kai. At the same time, Garrett feels guilty and conflicted because he doesn't even know Kai but also fantasized about him and was aroused by his videos.
Though Kai is pragmatic and wasn't concerned about whether he was being objectified, he likes Garrett's protectiveness. While objectification is a serious topic for discussion and Kai's anxiety is definitely not fun, the objectification and anxiety function in the story to bring Kai and Garrett together, see each other as people, and develop their relationship from an online infatuation to true love in real life. Garrett's protectiveness makes Kai feel safe and valued, while for the first time Garrett feels needed and appreciated.
Their emails lead to chatting, flirting, and a mutual masturbation sex scene on Skype. Though I'm certainly not opposed to dirty, kinky sex, I wasn't exactly feeling that scene. I like to sense the intensity of the emotions involved and not just the intensity of getting off. What I liked most about that sex scene was how it made Kai realize how lonely he really was when the computer was turned off. I found their Gchats more effective in communicating their emotions and vulnerabilities and the complexity of their relationship.
Garrett has a lot of self-esteem issues. He criticizes himself because he didn't join the military to be a hero or out of patriotic duty. He joined the military because he wanted to escape his dead end town, didn't go to college, didn't know what to do with his life, and needed a job. But he gained on-the-job training, provided support to the boots on the ground, and at times had served at the front line. I don't get why he feels bad about joining the military because he was poor and needed the money. He is a hard worker, did a damn good job, and put his life on the line by being in a war zone. The problem with his job in the Army, though, is that it's so specialized when he returns to the States he has difficulty finding a job he's qualified for.
When Garrett returns to the States, their relationship gets real and even more complicated. They have lots of sex, and that's all good, though I preferred the shorter sex scenes, which expressed their desperate need for each other and fear of losing each other. Their insecurities and fears lead to some angsty complications, which are eventually and easily resolved when Kai's courage and personal heroism gives them their happy ending. I don't see how it could have ended any other way.
Kai's suffering with debilitating anxiety actually made me cry. I understood that Garrett motivated him to take the steps he needed to improve his quality of life, and I understand that this is first and foremost a romance novel. But Kai should have been motivated to get better more for himself than for a man. After all, when faced with a similar difficult choice, Garrett did what was best for himself. Because Kai's choice is a win-win for both of them and though I didn't necessarily approve of the way he arrived at his decision, I was happy that, like a hardcore gamer, Kai went for the epic win.
I had a whole lot of fun with the gaming scenes. I giggled during those scenes because I knew exactly what Garrett and Kai were talking about having played MMORPGs like World of Warcraft myself. And I LOVED the idea of a gender-neutral character creation screen. (Though, having a dragon as a race would be problematic, because dragons fly, which would make the game feel more like an FPS. IMO, that kind of game would probably have to be turn-based.)
I loved the flirty chats, Kai's grand gesture, and how Kai's loyal fans were concerned for his health, and supported and encouraged him to go after what he wanted and turn his life around. I'm interested in reading Costigan's story in Cyberlove #2, though I hope the sex scenes won't be merely erotic but will be enhanced with a little more emotional depth.
*ARC received from the authors for an honest review.